---
Say NO to Free Designs, I have lost about $50,000 and it is not a fair estimation.
If I had been too professional and I had not worked/free designs for free for my Clients. I might have been living luxurious life. I had enjoyed holidays on my favorite spots in owned sporty car. I would have helped and supported my family and friends. There could happen a dramatic change in my life. But my clients always try to convinced me to work for free for them by telling their emotional stories and I was easily convinced for being a nice and kindhearted person. I did not want to disappoint whoever came to me. We've already posted an article How to say no to client and refuse bad projects
Can You Believe Your free design will end up in the trash
What I want to express through this story?
It is not just about the profit or loss of money. My main concern is how many of these works are appreciated and printed on paper or published on web? And I believe, but none of those.


The reason behind this?
It is because the things people get for free become easily gained for them and this is the fact that the things which people get easily, effortlessly or free, they do no value or appreciate those things, it does not matter how much you put your efforts to create them.
Your clients do not appreciate you

Designers are often asked to work for free. There may be financial problems for this but when they do not ever appreciate your work it hurts little. You cannot co-relate the free work with the financial difficulties of your clients. Have any doctor prescribed you treatment without any charges seeing your money problem? Have you ever enjoyed any type of service without paying first? Why should design?


Many times people give suggestions and promises if you make free designs
Many times people give suggestions and promises about equity for working for free may give you better opportunity in future. Because by doing so you easily gain acquaintance with the employees. You can gain experience and create good will and reputation among your clients and the employees.
Working for equity is a little tricky, since in the world of startups equity compensation is a pretty standard way to gain the employee's commitment for the long haul. But be careful – equity are in addition to a salary, it's not a replacement. See These 10 bad habits are killing your productivity.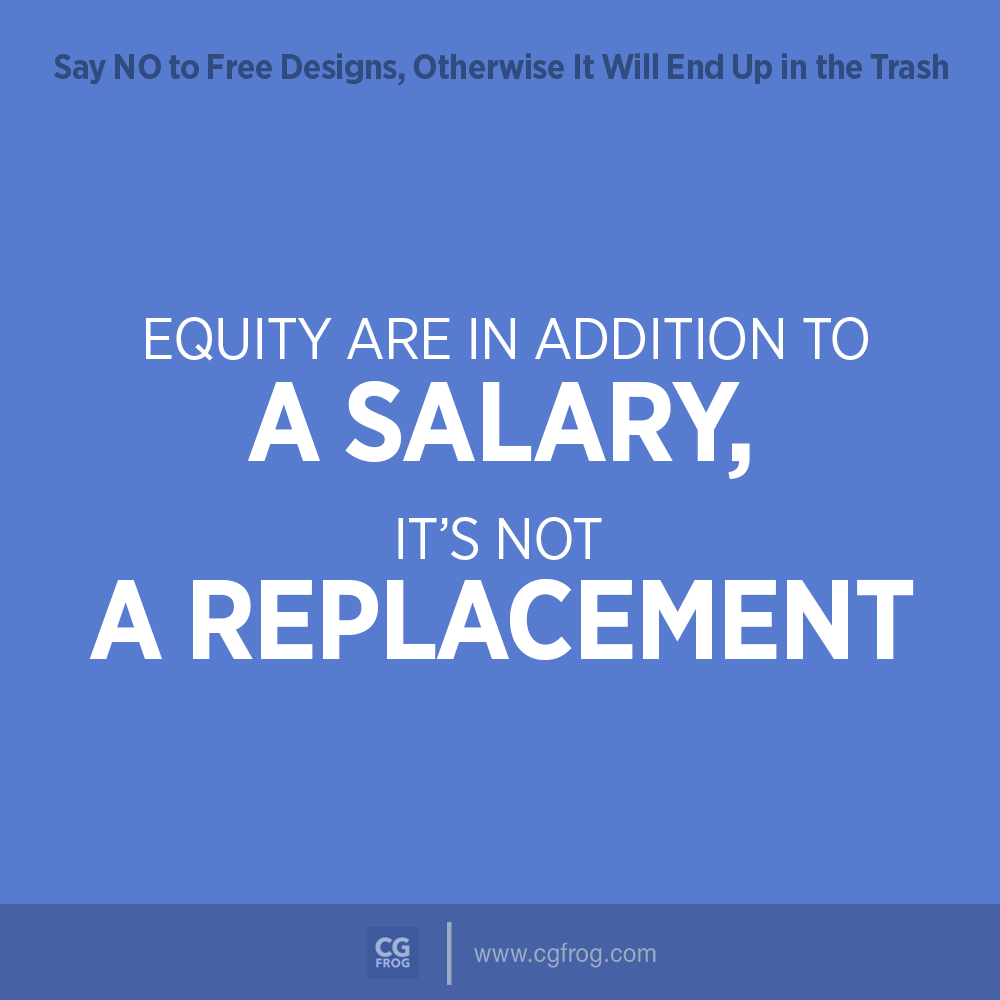 But in my views, all these promises are merely illusions actually. Such equity should be the bio-product of your hand works not the substitute of your salary or payment, such equity is maintained among the long time partners of any fire or foundation. So confirm, do your clients offer you such partnership.
Other than these, in a free project there is less involvement of your clients in the project.
And I believe it is really impossible to create good design without serious and proper involvement of client during the whole process.
The only way to keep the client interested and committed is to charge for the project. Because when people pay for anything they want best of it and do the best of their efforts. So the more they pay, the more they will stay committed and sincere.
When someone pays some money for any project then he will do whatever it takes to make the project successful. They won't take the risk that this project might fail. If he pays poor amount for the same work he will become careless. And he will look for another designer if he does not like the work, you are doing on his project and dedicating your time and labor.
Family and Friends
I have shared my views with my family and friends and seek for their opinion on this issue. Of course, they hold similar outlook on the matter. Infect, I believe if any of my clients is from my family and friends. They would also treat my work like my other clients do, if I work for them.
They will say to you: "Thank you Amit! Great job! We really appreciate it." But don't believe them. They would appreciate the work outwardly but would not really love and value, it as they got it for free of cost. I can compare this situation with the wedding and birthday gifts that we receive from our family and friends. Many times it happens that we really do not love those gifts and value them but we appreciate the gifts and gives thanks before the givers.
So the point is that people have become very superficial. They focus much on what cost them much. So if you want your clients to care about you and the work you are doing, so start charging a lot of money for it.
There is no contradiction between my opinion about unappreciated free work and the fact that I choose to work for free with family and friends (when I can't avoid it). This is the main reason why i'm saying No to Free Designs.
When no one is paying for your time, nobody cares if your time is properly used.
You may also take a look at our client and designers relationship articles;