Stunning Canvas Paintings By Shikha Agnihotri: Shikha was born into a Hindu family in Kanpur, Uttar Pradesh, India, now she is living in New Delhi and opened her studio. She said: Being a Ph.D. holder in Drawing and Paintings but I don't know why I'm an artist, but I should say art is in my blood. I like to paint, so I am an artist. I am improving myself every day. It is an endless journey. You keep on learning if you have dedication and eagerness to learn. I believe in God and he thinks positively for me. In my view, right people get right opportunities. If an artist experiments it opens varied horizons for him/her and thus the best of the work comes out.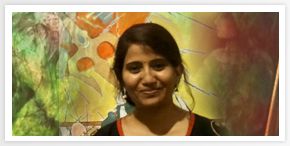 Her themes—usually treated in series—include topics as divine figurative, abstract and Banaras Ghat. visit her studio. for more details please visit artistshikha.com
In this post, we've added some of the most stunning paintings for your inspiration.
Please give us your opinion.
We are always interested in hearing your thoughts. Your feedback/comments are valuable to us and will help us improve your online experience at our blog.
Stunning Canvas Paintings By Shikha Agnihotri
1.

2.

3.

4.

5.

6.

7.

8.

9.

10.

11.

12.

13.

14.

15.

16.

17.

18.

19.

20.

21.

22.

23.

24.

25.

26.

27.

28.

29.

30.

31.