How to Design a Logo: If you wish to know anything about how to design a logo, or if you're seeking some logo design inspiration, your search ends here, cause we have made this post on the entire logo design process just for you! We will tell you everything you must know before undertaking a brand identity project.
Introduction
A well-designed logo is more than just a design. A logo speaks a million words about the company it represents, and the product it deals in. Not just this, a logo also influences the buying decisions and may change consumer loyalty as well.
In this post, I'll be walking through the entire process of how to design a logo from start to finish. So, if you want to learn how to make a logo properly, go through this post and enjoy.
---
You may also take a look at CGfrog for further interesting readings:
---
What Exactly Is a Logo?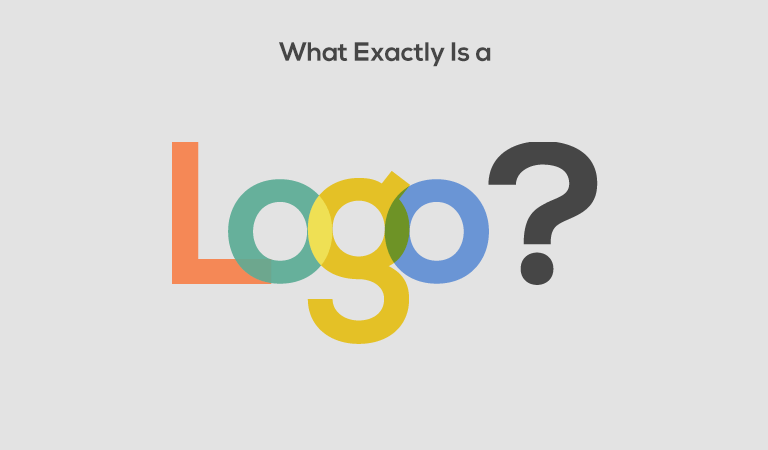 Well, before you begin the logo design process, it is advisable to understand what a logo exactly is. It is also significant to know the role that it plays for a company in today's modern and commercialized market. A logo might actually look like just a little mark, but it is actually the face of the brand or the company it is representing.
As we know by now, a logo is a design symbolizing one's organization. A logotype is a graphical representation of a company name, its trademark, abbreviation, etc., often uniquely designed for a particular brand, company or person. It is a design that is used by an organization for all legal purposes. The logo of a company can be seen on its letterhead, advertising material, packaging, and signs, etc.
According to Wikipedia, a logo is a graphical emblem that is commonly used by commercial entities, organizations or individuals to aid and promote instant public recognition. Logos can either be entirely graphical or alternatively, they can be composed of the name of the organization. They can also be a combination of symbols and text.
Why Is a Logo Important?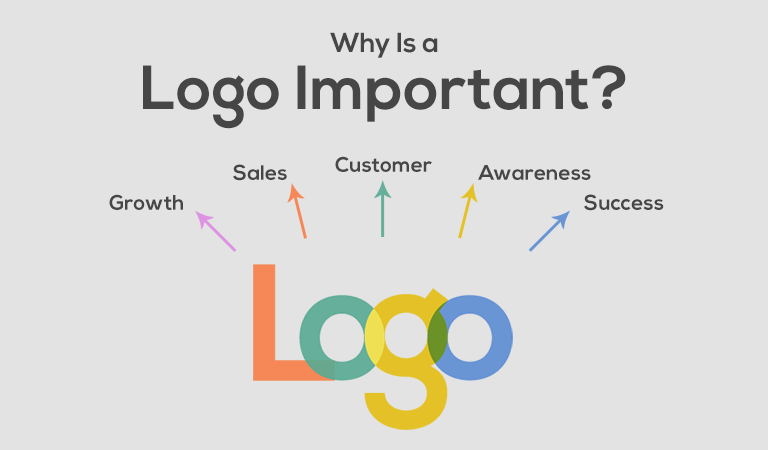 The logo of any organization is like it's identity. When a logo becomes famous, people recognize the company's name with the logo designs. Take the example of any car company, even a three-year-old today can recognize the cars with their logo. This is the kind of impact a logo has on its viewers.
Thus, it is very important to create a perfect logo. A logo which creative, unique and unforgettable is the one that goes a long way in making a business successful. A common or an ordinary logo will not have any impact on the audience. An uninteresting logo will not be remembered as the other unique ones are.
What Makes a Logo Design, Good?
There are certain logo design principles that every designer must follow to make a logo design, good. A good logo is far more powerful than a not so good logo design. Since a logo can become quickly and easily associated with a business, it should be unique and unforgettable.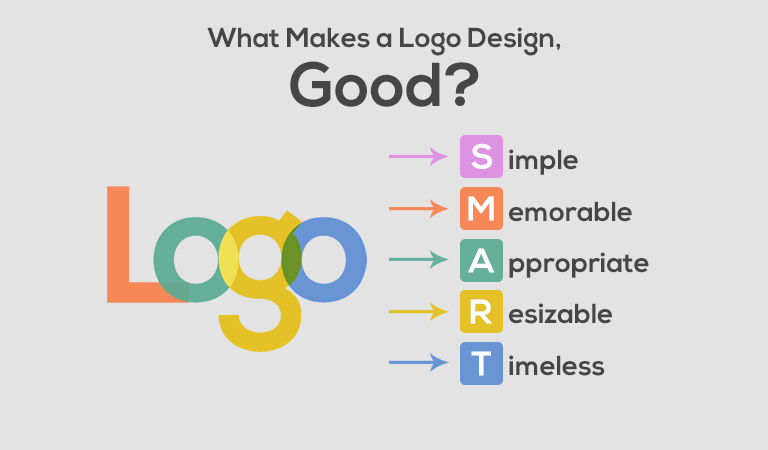 Generally, a designer must consider the following points to make a logo effective and good. Our designers at CGfrog usually follow the "SMART" concept, which stands for:
S – Simple
M – Memorable
A – Appropriate
R – Resizable
T – Timeless
As mentioned above, a successful logo clearly conveys what a company wants to say to its consumers.
Types of Logos
1. Symbolic or Iconic Type
The symbolic or iconic type of logo design usually represents the company in a simple way and uses an image which is stylish and is visually attractive. The image can be abstract in nature as well. This type of logo leaves a great visual impact on the audiences.
Examples: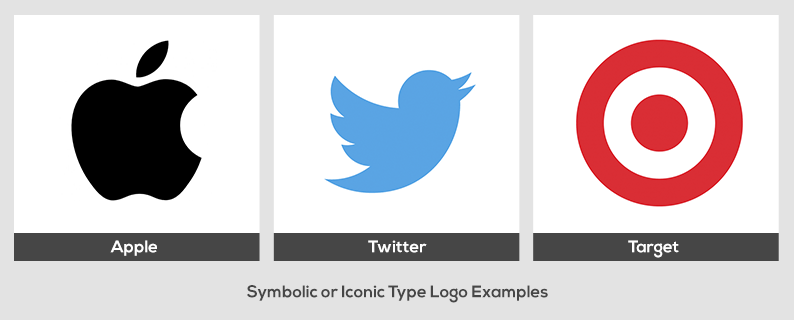 2. Lettermarks
Lettermarks are typographic and are actually the initials of a company's name. Many companies use this type of logo design because when their full name is too long, their name can be beautifully represented using this type. This may require using the initials of the company name which may also be difficult to pronounce.
Examples: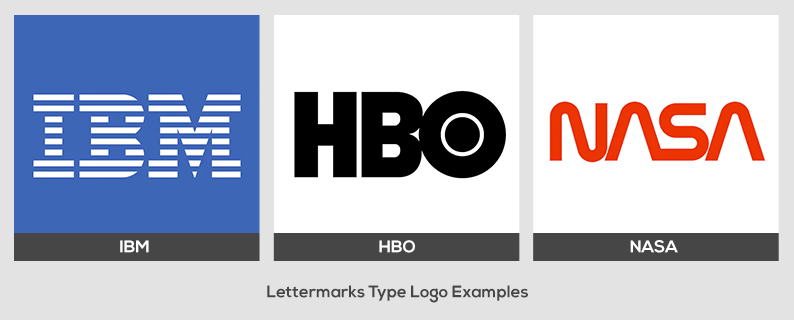 3. Wordmarks
Wordmarks or logotype are similar to a lettermark. A wordmark type of logo is a typical font-based style which represents the company's name in a remarkable way. Wordmarks are used when the name of the company is catchy, unique and distinct.
Examples: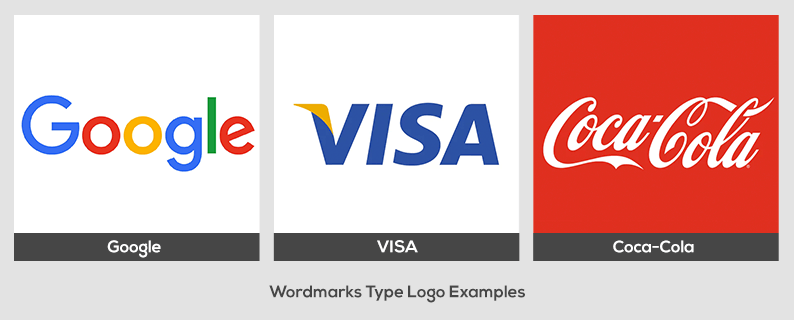 4. Abstract Logo Marks
An abstract logo, as the name suggests is a combination of several geometrical patterns or shapes. There is no boundary or limit to one's creativity when it comes to abstract logo design.
Examples: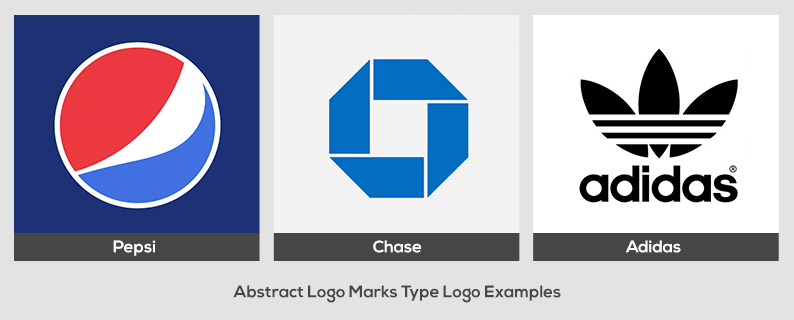 5. Mascots
Mascots are a unique and kid-friendly representation of a picture. This type is especially used for people who deal with items or services related to kids. Mascots are a great choice for companies that target families with kids. A mascot will communicate with your clients and convey to them your core values.
Examples: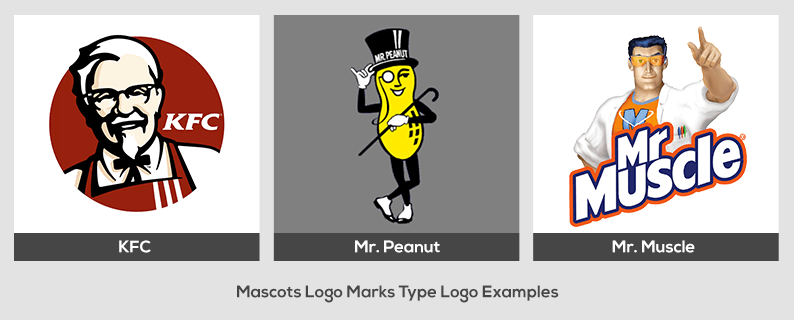 6. Combination Mark
As its name suggests, a combination mark is a union of alphabets, letters, and images. A combination mark is the most popular logo design type which is widely used. A symbol and text can be combined to create magic in numerous ways.
Examples: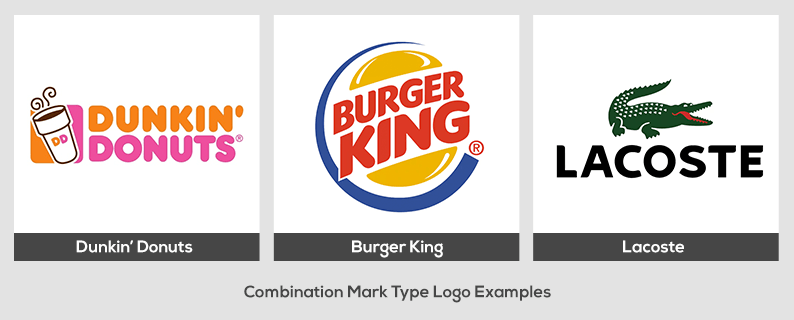 7. Emblem Mark
An emblem is a combination of alphabets, or a word, a sign or a symbol surrounded by a geometrical shape. Stamps are the most widely available example of this type of logo.
Examples: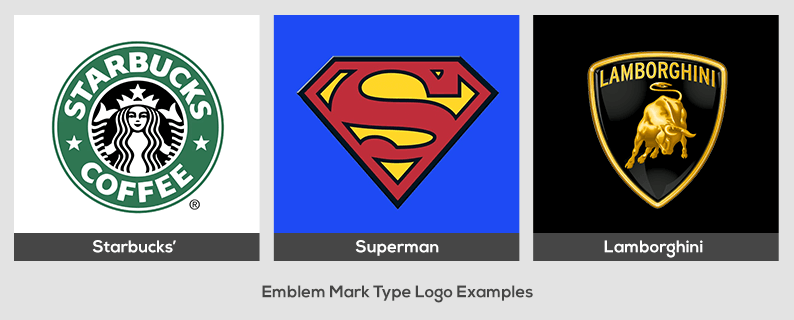 8. Ambigram Type Logo
An ambigram literally means a word or symbol which is read in the exact same way when viewed from a different direction. Thus, an ambigram type of logo looks the same when mirrored or is seen from a different orientation.
Examples: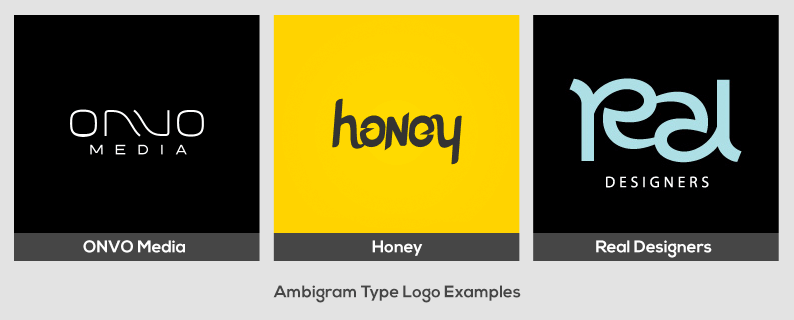 More Examples of Ambigram Type Logos
Logo Design Tools vs Professional Designer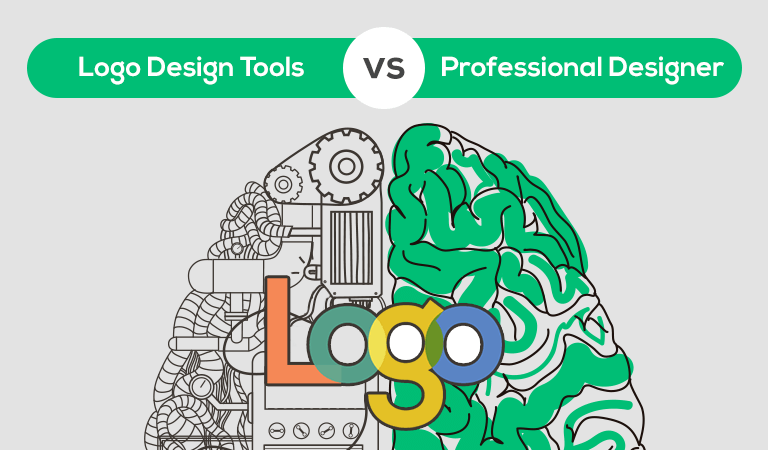 While getting a logo for your business, you may have an option of choosing between a free logo design tool or a professional designer. Some people who are in short of time may at times look for some free logo design software. The free logo design software will also enable one to get a logo at no cost. But, this is not comparable to what a professional designer can give you. The free tool is beneficial for designers who need assistance and are inexperienced. Nevertheless, the fact that the options on a logo maker tool are very limited cannot be ignored. However, it is up to the client to make a choice as per the time and budget available with them.
Logo Design Process
A well-defined process makes any task easy. A clear modus-operandi also leads to great results. Thus, this logo design process will surely give you an insight into how to design a logo which is perfect. Organizations, big or small, all of them ultimately look up to this design process to simplify their task.
1. The Brief
Get to know the client
2. Educating Your Client
Have you ever thought, why an uneducated client is also an unhappy client? What brings in this dissatisfaction in clients coupled with unreal expectations? Read more: Educating Your Clients
3. Discover
Research and Development
4. Sketch and Design
Create Concept and Drafts
5. Revisions
Fix it up real pretty
6. Develop
Create a masterpiece
7. Logo Delivery
Infographic of Logo Design Process
How To Design a Logo Using The Principles of Logo Design
Do you think that designing is as easy as a pie?
Look into this section carefully to know what are the important logo design principles that one should follow while designing a logo. A logo design should necessarily be able to convey what a business exists for.
1. Keep it Simple Stupid
The KISS principle, as you must've heard, is very famous and popular. Bringing in too many things at a time may make things even more complicated. Thus, we should try to keep things simple and easy.
2. Make it Memorable
A logo must necessarily be unique and unforgettable. It should leave an everlasting brand impression on the clients' mind.
3. A Logo Must Represent The Company
The logo must be able to represent the brand which it represents. The client must be able to judge looking at the logo as to what company is it for.
4. Make it Multi-Purpose
A logo should be such that it could be used on multiple platforms. A logo should be clear and should clearly define the brand it is representing. The logo design should be such that it could be stretched up to billboard proportions and also it could be used well on a tiny box package.
5. A Logo Should Be Proportional and Well Balanced
A logo should not be disproportional. It should rather be well balanced and appropriate.
6. Stop Using More Than 2 Colors
A logo should be carefully made with a single color or just two colors at a time. More than two colors in a logo will make it too flashy.
7. Minimal Approach
Follow the less is more approach to get the best logo design. Don't try to incorporate too many elements into one single logo. Trying to bring in too much in one logo will make it look cluttered and confusing. Thus, one consistent symbol or shape should be used. Special and utmost care should be taken while designing a logo for a brand. This will also help in maintaining longevity.
8. Versatility Is The Key
A logo should be versatile and multifaceted. A brand must be able to use the same logo for all its product lines.
9. Once for The Lifetime
A logo remains with the brand for its lifetime. It takes a lot of resources in terms of time, money and efforts to design a great logo for a brand. Thus, people do not change its logo every now and then. Therefore, a logo should be such that it could be with the brand for a lifetime.
10. Small But Catchy Mottos
A brand is also known by its tagline. The motto or the taglines of brands must be easy and catchy. Long and complicated catch lines are hard to remember. The taglines should be less than seven words to make it rememberable.
11. Play Well With The White Space
A designer must be very well aware of the usage of space. He must leave plenty of white space and utilize all the space well.
12. Timeless
A logo should be both modern and timeless at the same time. When a company launches its logo, it remains associated with it for years. Thus, a logo should be something that doesn't age with time.
Tips and Tricks to Design a Perfect Logo
Designing a logo involves a great deal of patience. This art can also be learned through practice. Whether you are an expert designer or a beginner, these logo design tips if handy will surely add to your skills. A logo leaves an everlasting impression on the audiences' mind. Thus, we should be super careful while creating a brand identity. Read more: The Recipe For a Perfect Logo Design
Tips for Becoming The Most Wanted Logo Designer
There are so many designers in the industry. But, have you ever thought what makes you different from the other designers in the market?
These tips will help you to become the most wanted and popular logo designer in your area. This is important because a designer is not just a designer, but a person who shapes the future of a brand. And everyone would like to hire a designer who is popular. So, read through these super cool tips.
Logo Design Mistakes
Some common Logo Design Mistakes to avoid while designing a logo can actually turn the brand identity into something else. Thus, the logo design process is an art which involves aesthetics, requirements as well as representation. Try to avoid these logo design mistakes to design great logos. This part is very significant in the journey to learn all about how to design a logo. And above all, avoiding mistakes will improve accuracy and efficiency. Thus, knowing about them will also help to a great extent. Read More: Top 5 Logo Design Mistakes To Avoid
What Do Clients Want?
A business runs around the client. You must've surely heard the very famous saying that the customer is the king. Thus, it is significant to know what clients look for.
Now that you know how to design a logo, you must also know what are the client expectations.
Positive feedback from past clients can work wonders in terms of getting new projects for you. Happy past clients and testimonials can go a long way.
Your nature to accept challenges, your timeframe and the amount that you charge over your competitors is another important factor.
How you take up the brief, how you communicate and how professional you are some more key points.  Be prompt and trust me, your client will come back to you. This will also help you get more clients for your business. And, most importantly you should remember that a client is looking for a solution to his problems (This is a million dollar tip!). Read more: 15 Surprising Ways to Get More Clients
Before You Start The Project, Educate Your Clients
You must be wondering how educating a client is related to designing a logo. It is to a great extent!
When designing; a logo or anything else for that matter, the clients' reactions play a significant role. Thus, it is important to know what a client actually wants. Thus, a designer must communicate with the clients to gauge and understand the clients' requirements. This should be done as uneducated clients will always be unhappy clients. 
How To Treat Your Clients?
A very important part of learning how to design a logo is knowing the trick to maintain your clients for the lifetime. And this is possible only if you are sincere, honest and a superb designer. You should treat your clients in a way that they are in full praises for you. They should come back to you whenever they need a design or solution to any of their designing problems.
Logo Design Inspirations
Logo design ideas and inspirations can get the creativity flow into your bloodstream with double the speed. Thus, below are mentioned some wonderful inspirational post exclusively for you all.
>> Click Here For More Logo Inspirations
Some Useful External Embeds
Let the knowledge flow from all directions and thus, CGfrog brings a collection of information all at one single place.
How To Find Best Logo Design Ideas For Your Business
Via: Mohamed Achraf
5 Mind Blowing Logo Design Tips
Via: Will Paterson
The Logo Design Process From Start To Finish
Via: Mohamed Achraf
Design Your Logo with The Golden Ratio!
Via: tutvid
5 Secrets to a Successful Logo
Via: Entrepreneur
Conclusion
Phew, wasn't that a long one?! But trust me Frogians, there is a lot of information to take away from this post. So, I'm sure that the next time you're up for designing a logo, or if you wish to know anything about how to design a logo, this post will apparently prove to be of great help.
If you wish to learn how to design a logo, do follow the points laid down in this post. Tell us which one turned out to be the best one for you. Share this post with your friends and fellow designers. So, whilst this guide would serve as a base for your latest logo design project, as a designer, you should always be up for experimenting!
17. Looking For a Graphic Design?
We have helped thousands of business owners from all around the world with their graphic design needs such as a logo design, website design, social media posts, banner and much more.
Get Started Now and Get a free quote