Navratri Images and Navratri wishes: Navratri literally means nine nights. During these nine nights, people worship Goddess Durga and all her avatars. During this festival, people fast to appease the Devi. These nine days are celebrated with great joy and zeal. The nine-day festivity and celebration look absolutely colorful. This festival clearly involves people from all castes, class and age groups. It is a Hindu festival that men, women, and children celebrate in different styles in different parts of the country in Autumn every year.
How We Celebrate Navratri
In Gujarat, people celebrate Navratri by doing Dandiya and Garba. These are forms of beautiful folk dance in which people also use two sticks and wear colorful traditional dresses.
Similarly, in West Bengal, people celebrate Navratri as Durga Puja with a lot of prayer and worshipping. Women take the lead in this to celebrate the feminine qualities such as dance, decoration, pomp, and show.
In South India, this festival has great significance and the celebration involves putting up a museum-like set-up where many idols of Gods and Goddesses are put for display.
People in the east, celebrate this festival as "Durga Pooja" in which they celebrate the victory of truth over evil. This is also a celebration of feminism.
India is a land of diverse culture and festivals and therefore people celebrate all the festivals throughout the length and width of the country. A great way to celebrate any festival is by wishing our friends and family. Social media plays a major role in this these days. And this post on Navratri is a great collection of Navratri Images, Navratri wishes and 9 Lucky Navratri Colours to celebrate this festival with your loved ones. Download these images and use them on all social networking platforms. Also, wish your loved ones with theses Navratri wishes and Navratri status messages.
Navratri Images and Wallpapers of 2018
There are various ways to celebrate the Navratri festival. And we can see Navratri Images all over the media. The media also publishes Navratri Images that they click from various community stalls. Here are Navratri Images for you to share with your friends and family.
Happy Navratri! and शुभ नवरात्री
1.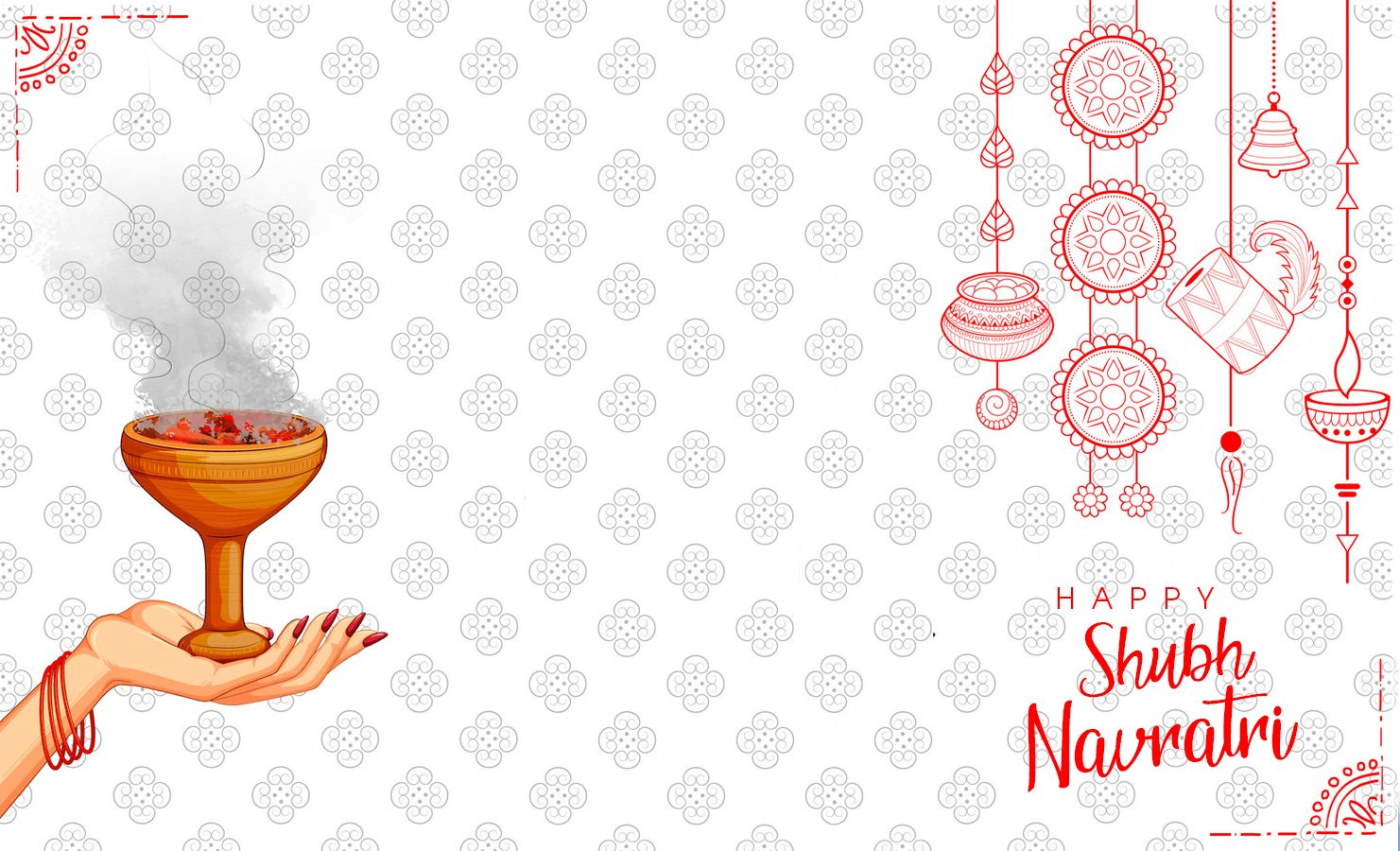 2.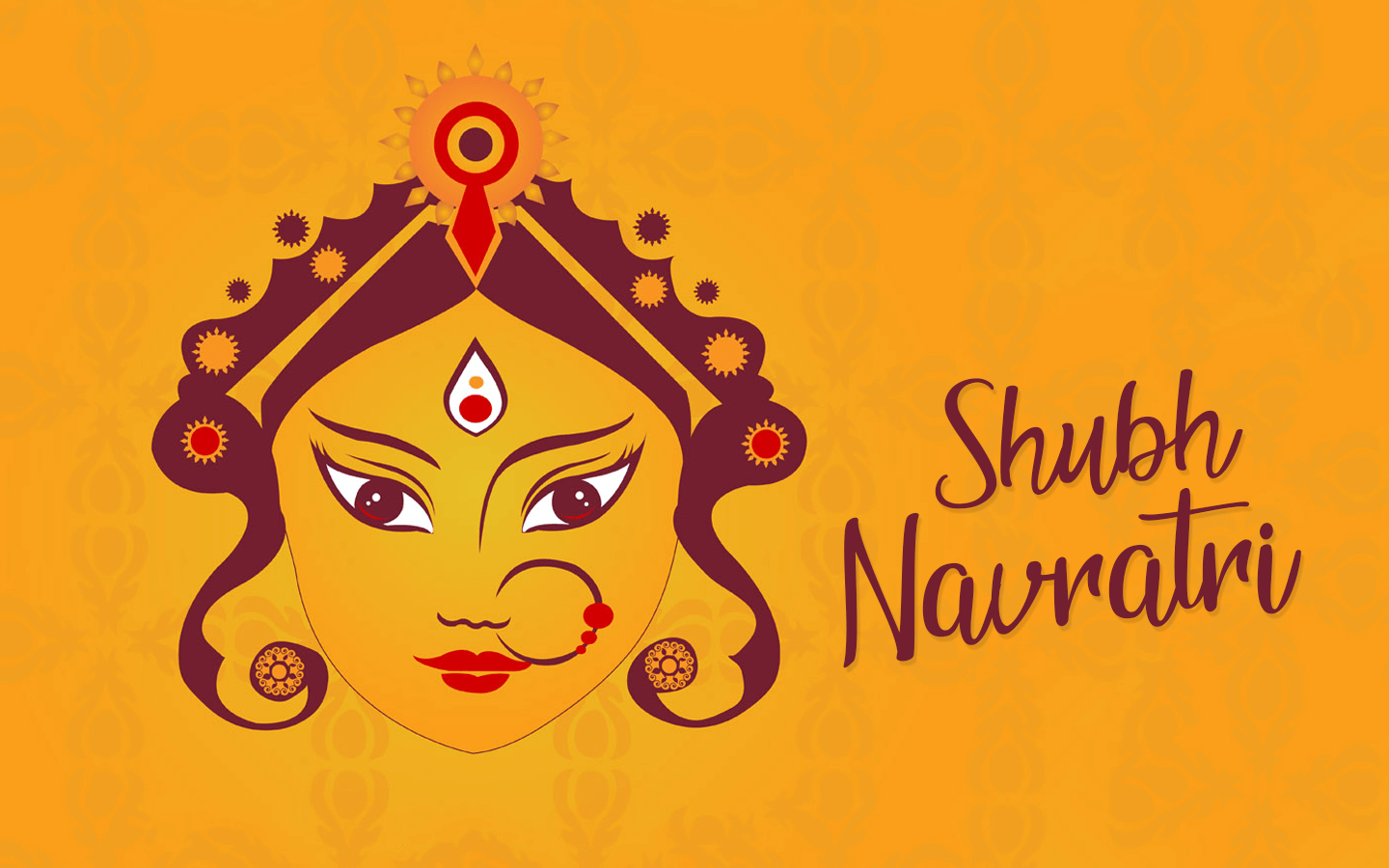 3.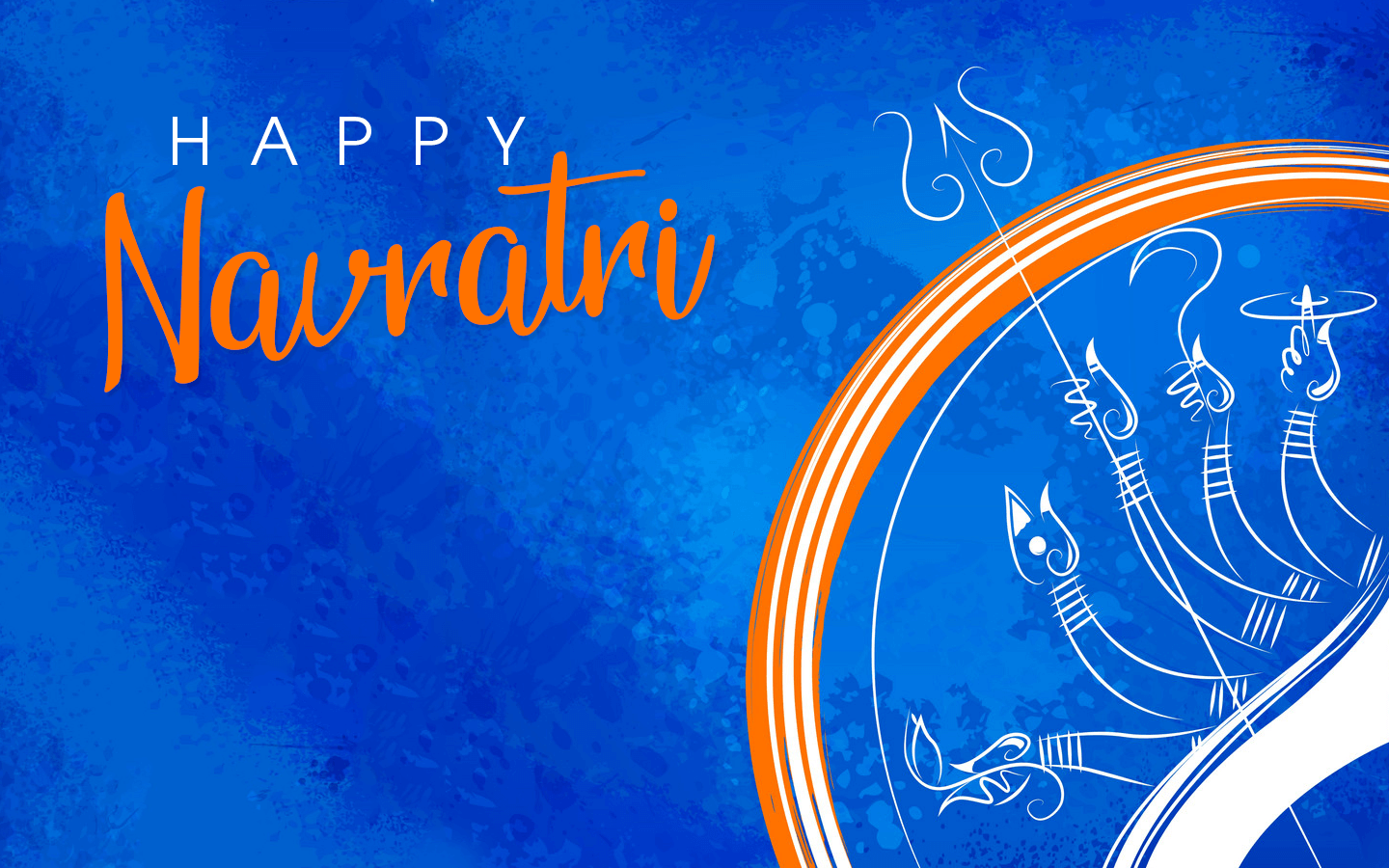 4.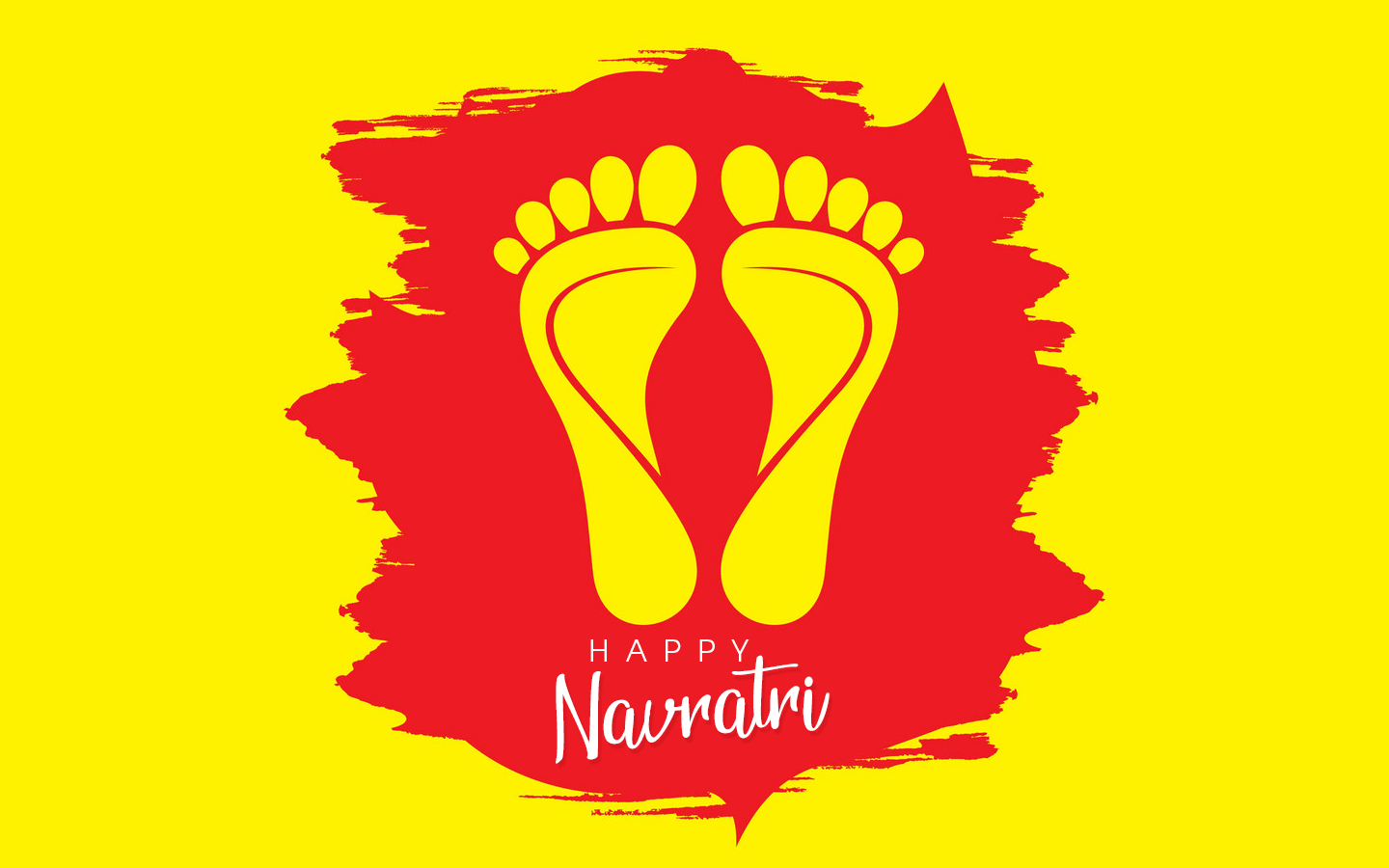 5.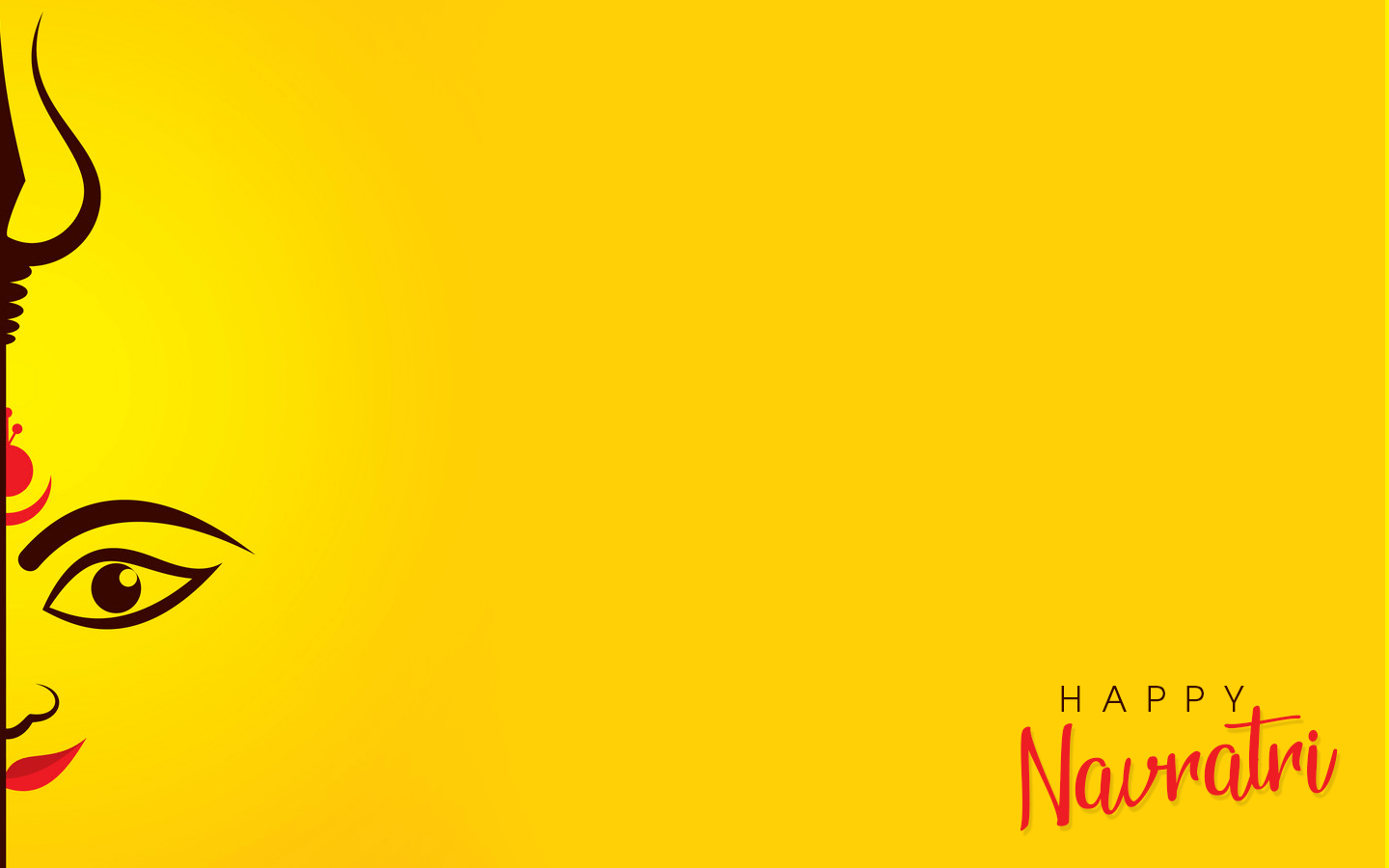 6.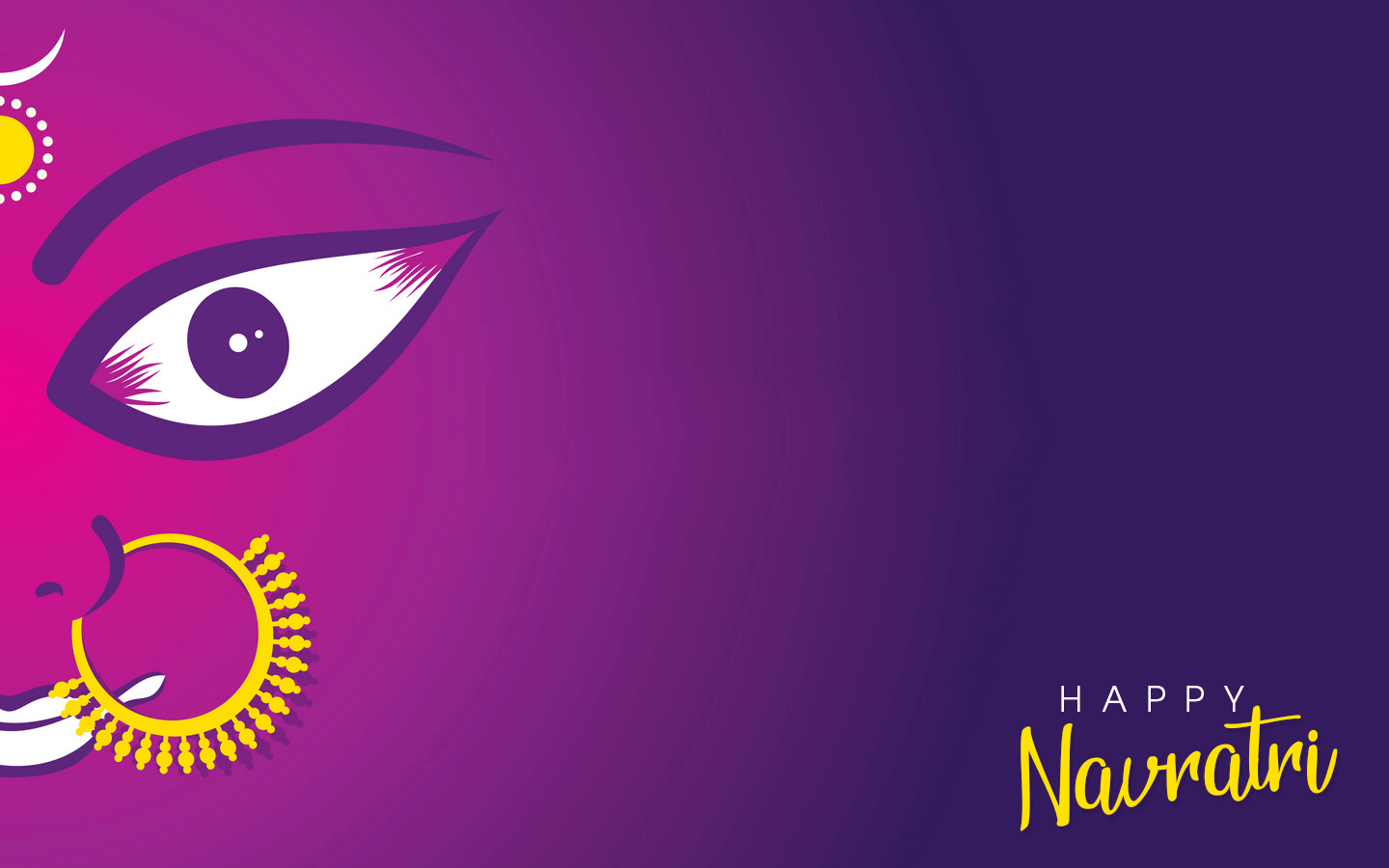 7.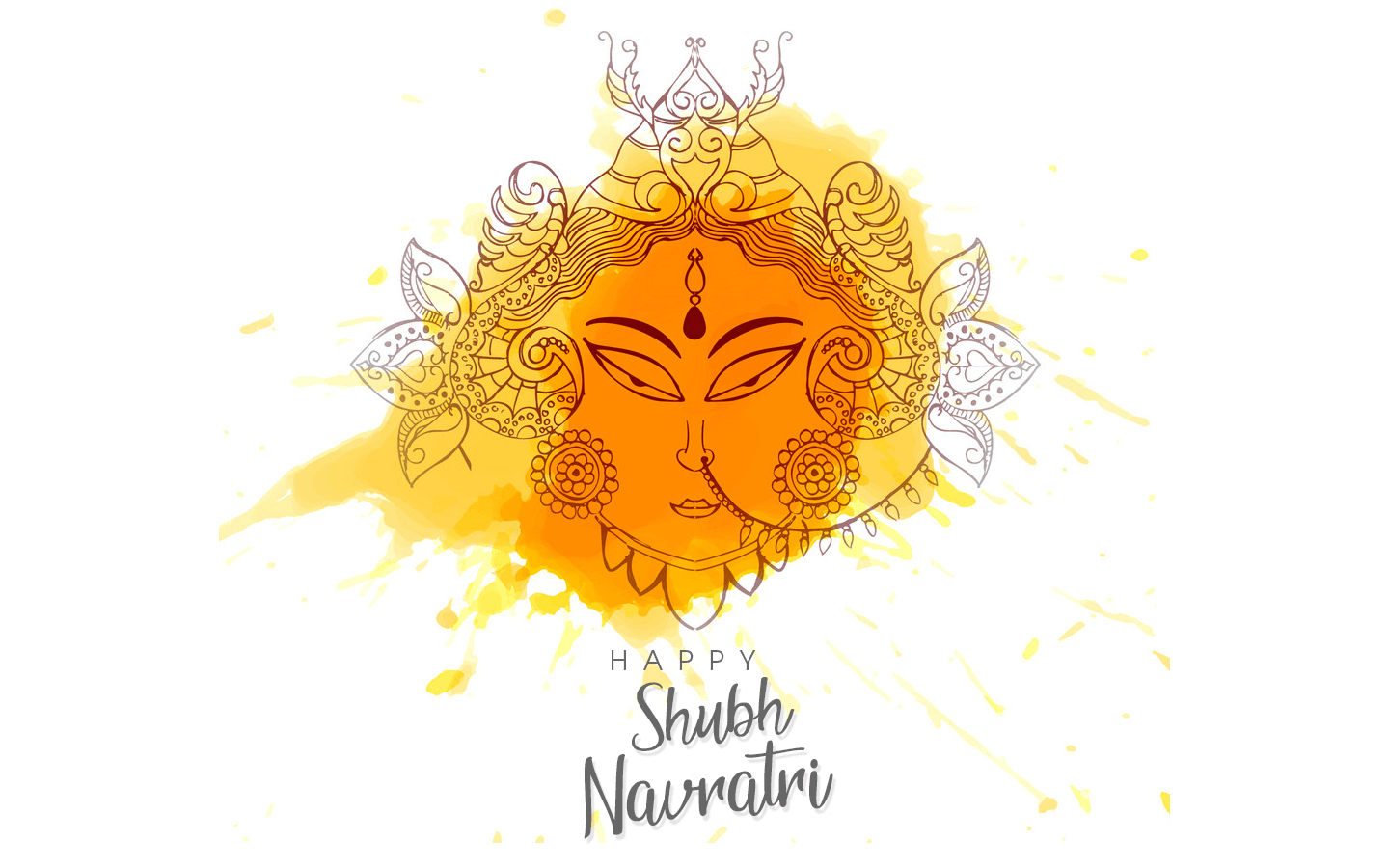 8.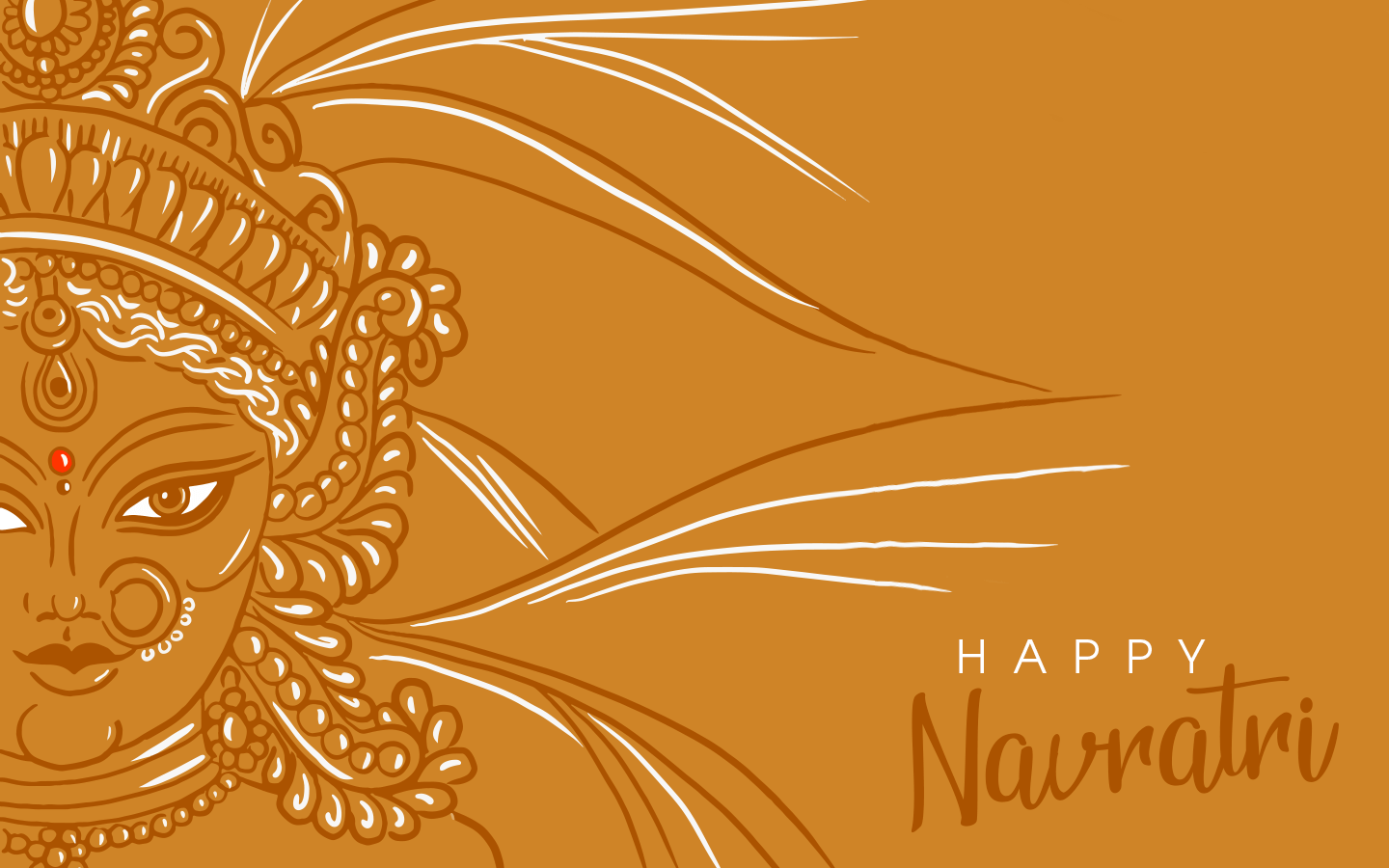 9.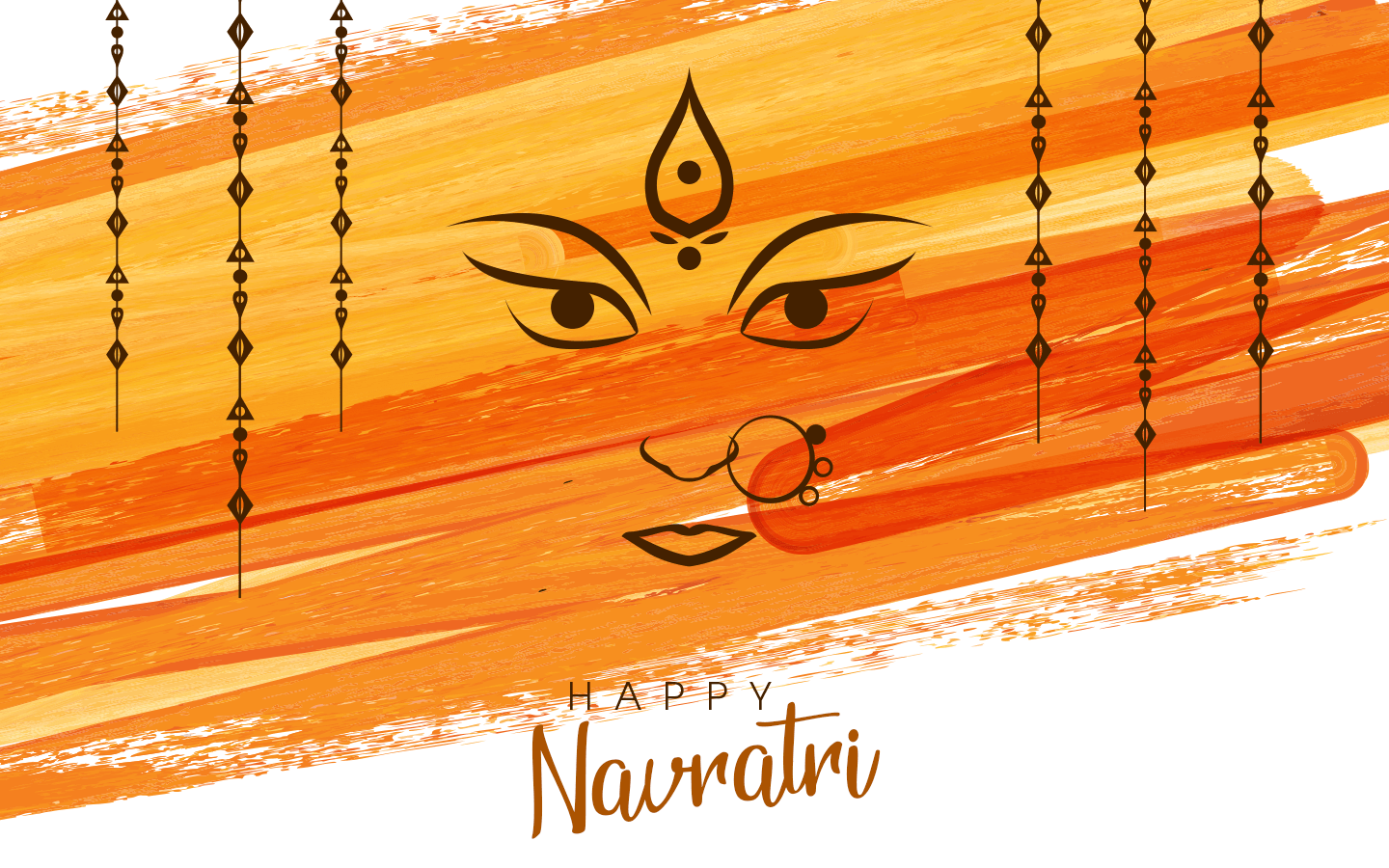 10.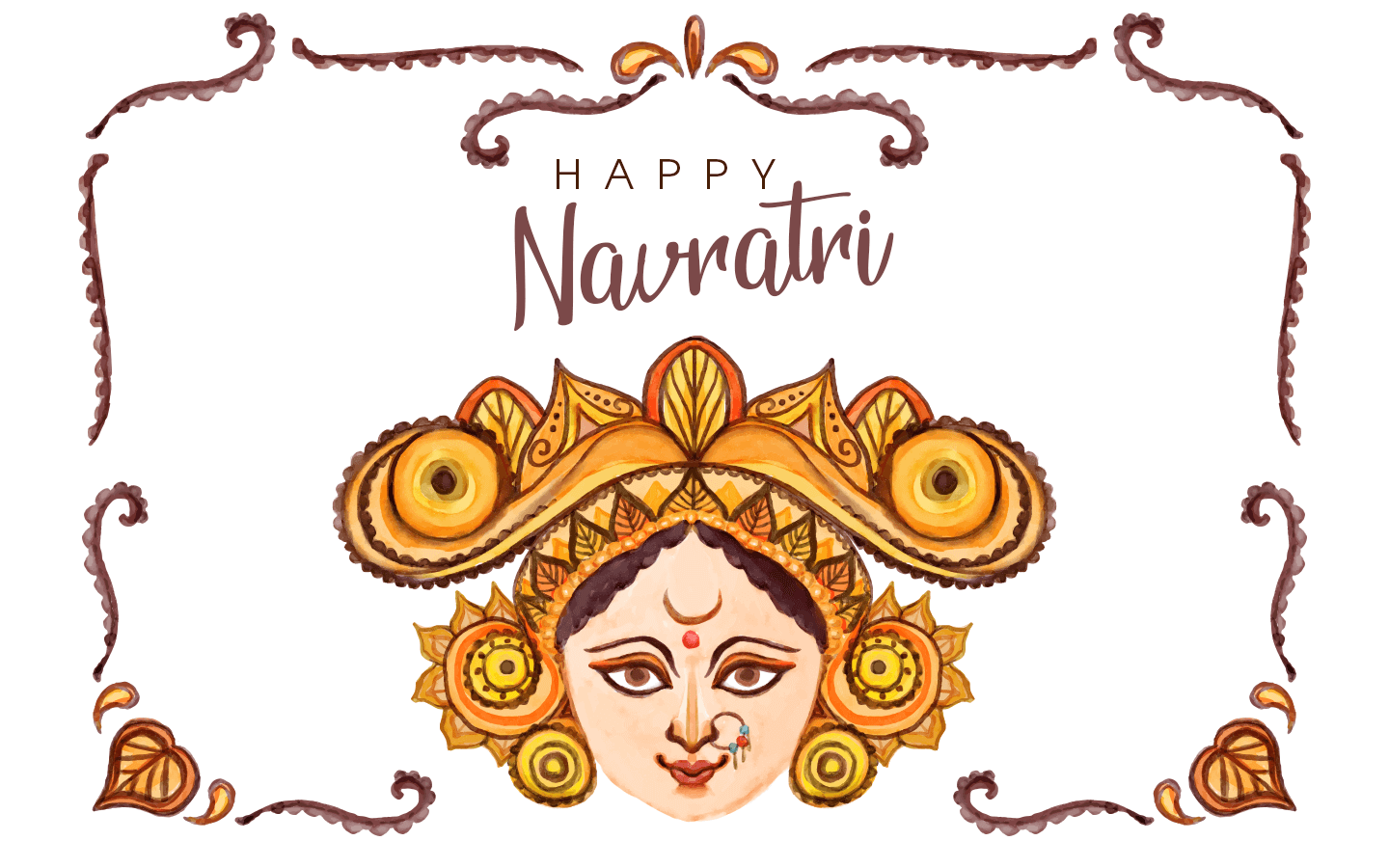 11.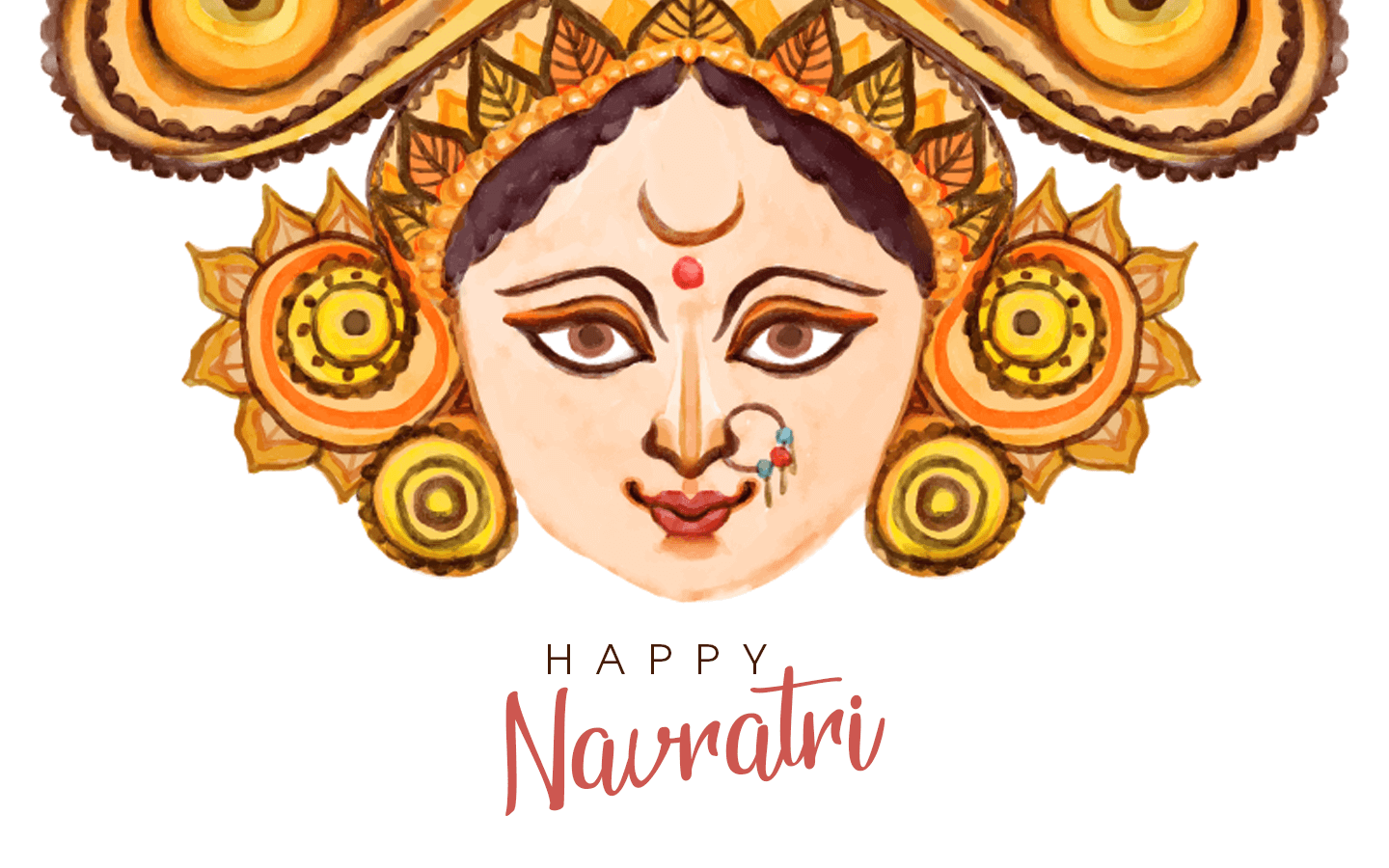 Navratri Wishes and Messages
A festival becomes incomplete if we do not wish our loved ones. So, here is a collection of Navratri Images Wishes. You can send to your friends and family during this ultimate festive season.
1.
आपको और आपके परिवार को धन, समृद्धि एवं यश की प्राप्ति हो | इस नवरात्री माता रानी की कृपा आप पर बानी रहे | नवरात्री की शुभकामनाएं |
2.
ओम सर्व मंगल मांगल्ये शिवे सर्वार्थ साधिके, शरण्ये त्र्यंबके गौरी नारायणी नमोस्तुते | हे माँ अपने भक्तों पे कृपा बनाये रखना | माँ तेरी सदा ही जय हो |
3.
इस नवरात्री आपको सदाचार, स्नेह, सम्मान, सय्यम, सफलता, सरलता, समृद्धि, स्वास्थ्य और संस्कार का प्रसाद मिले | शुभ नवरात्री |
4.
Wish you and your family a very happy and a joyful Navratri. May Goddess Durga bless you with the best in life.
5.
May the brightness of Navratri bring colors to your life. Have a happy and a fun-filled Navratri.
6.
Navratri means nine nights of devotion, prayer, and worship. May all your prayers get answered soon.
7.
Happy Navratri is not just a wish, but it means that we are wishing more power for the other person. Wish you a very very happy Navratri.
8.
May Goddess Durga bless you with all her power, wisdom and honesty. Wish you a happy festival.
9.
Good wishes for a joyous Navratri festival to you and your family.
10.
May Mata Rani bless you with joy and happiness. May you have a terrific festival. Happy Navratri.
9 Navratri Colours
In the year 2018, Navratri will be celebrated between 10th of October to 18th of October 2018. The tenth day after the nine nights is celebrated as Dussehra (Vijayadashami day) which will fall on 19th October 2018. As we know that colors play a great role in our day-to-day lives, here is a list of Navratri colors 2018. Some people prefer to wear clothes as per these colours.
| | | | | |
| --- | --- | --- | --- | --- |
| Date | Day | Navratri Tithi | Lucky Color | Color Code |
| October 10, 2018 | 1 | Pratipada | Yellow | #FFFF00 |
| October 11, 2018 | 2 | Dwitiya | Green | #008000 |
| October 12, 2018 | 3 | Tritiya | Grey | #808080 |
| October 13, 2018 | 4 | Chaturthi | Orange | #FFA500 |
| October 14, 2018 | 5 | Panchami | White | #FFFFFF |
| October 15, 2018 | 6 | Sashti | Red | #FF0000 |
| October 16, 2018 | 7 | Saptami | Blue | #0000FF |
| October 17, 2018 | 8 | Ashtami | Pink | #FFC0CB |
| October 18, 2018 | 9 | Navami | Purple | #800080 |
| October 19, 2018 | 10 | Vijayadashami | Anything Traditional | |
Infographic 9 Navratri Colours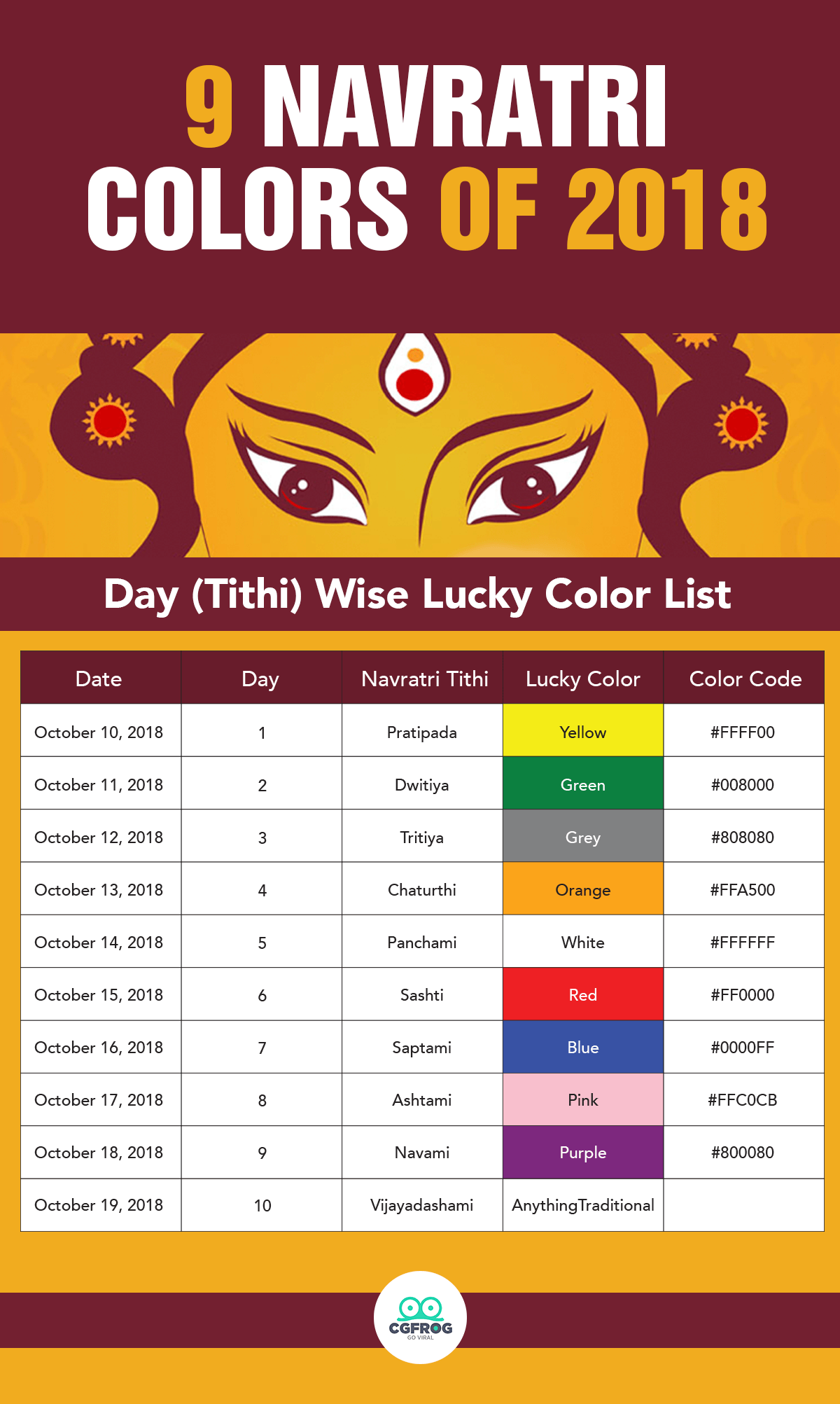 Conclusion
CGfrog wishes all its users a very Happy Navratri. Do share these Navratri images, Navratri wishes and messages with your friends and family. Also comment below to let us know which one is your favorite image or message.
P.S. Do let us know what more do you wish to see in our festive posts in future.