Durga Puja 2018: A nine-day festival to worship Goddess Durga
Goddess Durga is the Mother Goddess of the Hindus. Durga is a form of Shakti and Devi. People worship Durga in various forms but also consider NavDurga to be the most sacred. Durga Puja takes place during Navratri which falls in the Autumn every year.
Don't Miss:
Navratri 2018: Wishes, Images, Wallpaper, Photos of Durga Mata
Mahasaraswati, Mahalakshmi and Mahakali are the three major forms in which Goddess manifested herself. It is said that these forms are the active form of energies for Brahma, Vishnu, and Rudra respectively. There is a belief that these Gods without these Goddesses will lose all their powers eventually. These three major forms of Durga further emerged as Nav Durga.
Navratri 2018: Nine Avtars of Devi Durga
Devi Maa Shailputri
On the first night of Navratri people worship Maa Shailputri who is an energy source of the trident Brahma, Vishnu, and Shiva. She holds a lotus in her hands. Maa Shailputri is the daughter of the king of mountains.
Maa Brahmacharini
This avatar of Durga Maa represents penance and austerity which leads to moksha.
Devi Maa Chandraghanta
This avatar of Devi Maa represents Maa with 10 hands who rides a lion. She is a slayer of evil forces.
Maa Kushmanda
The word Kushmanda literally means "little warmth cosmic egg". This avatar of Maa Durga is the creator of the universe.
Skandamata:
This avatar of Maa is the mother of Skanda, or Kartikeya, who is the chief warrior of Gods.
Devi Katyayani
This is a very fierce avatar of Devi Mata; the daughter of sage Katyayan.
Maa Kaalratri
The angriest and the most ruthless avatar of Devi Maa as she depicts the other side of life; i.e. death. Kaal means time. She represents the end of time.
Maha Gauri Maa
Maha Gauri Maa represents calmness and grants wisdom to all those who worship her.
Maa Siddhidatri
She is the one who grants all the wishes and gives all boons.
The nine avatars of Maa Durga that people worship during the Navratri are divine and also give us the strength to overcome all obstacles in life.
Navratri Images, Wallpapers and Wishes of 2018
1. Durga Maa Image with ten hands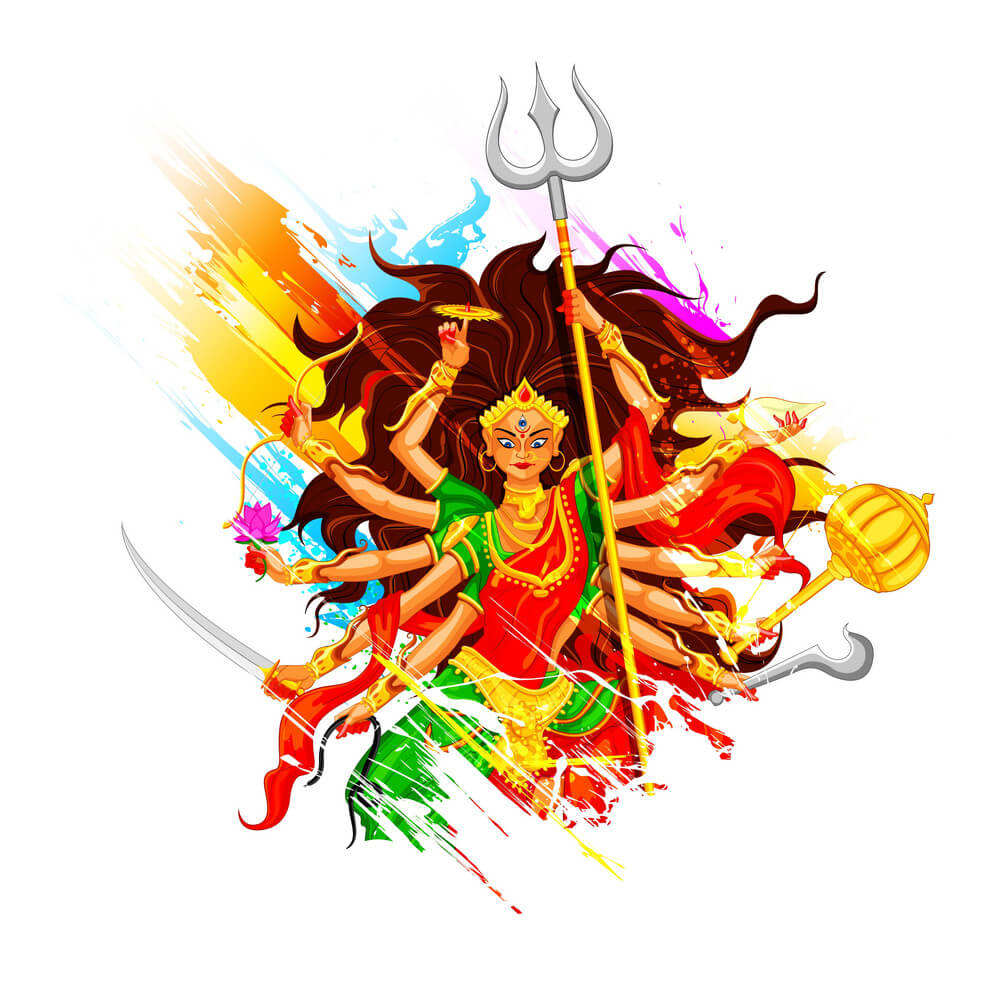 2. Durga Maa image with Shlok for Durga Puja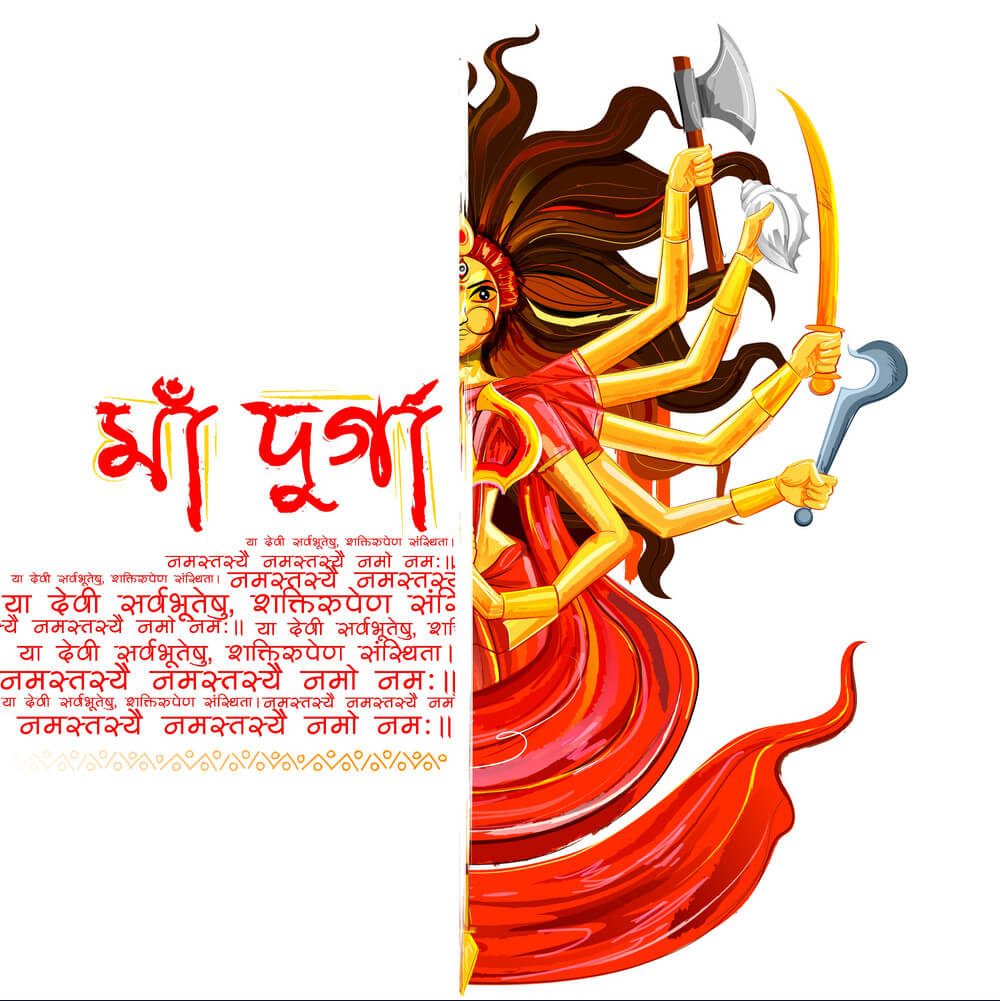 3. Beautiful Picture depicting Maa Durga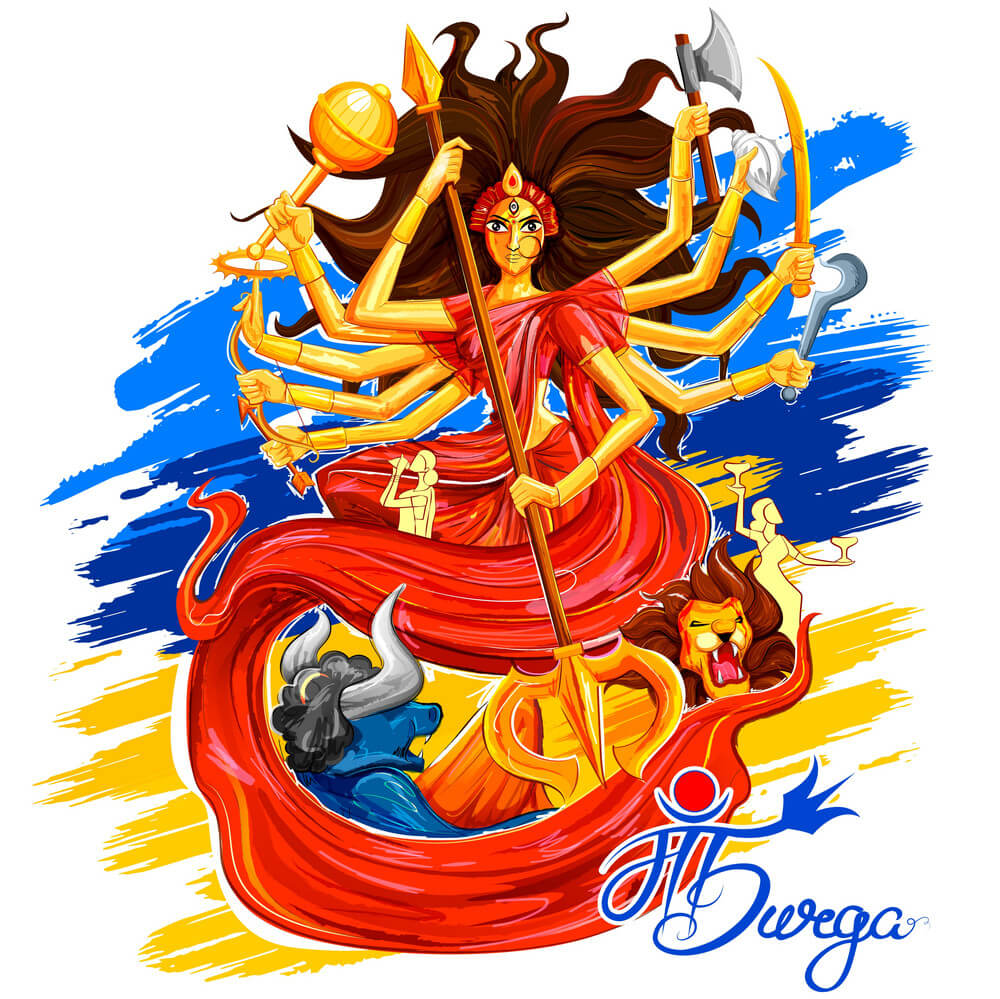 4. Durga Puja wallpaper with Trishul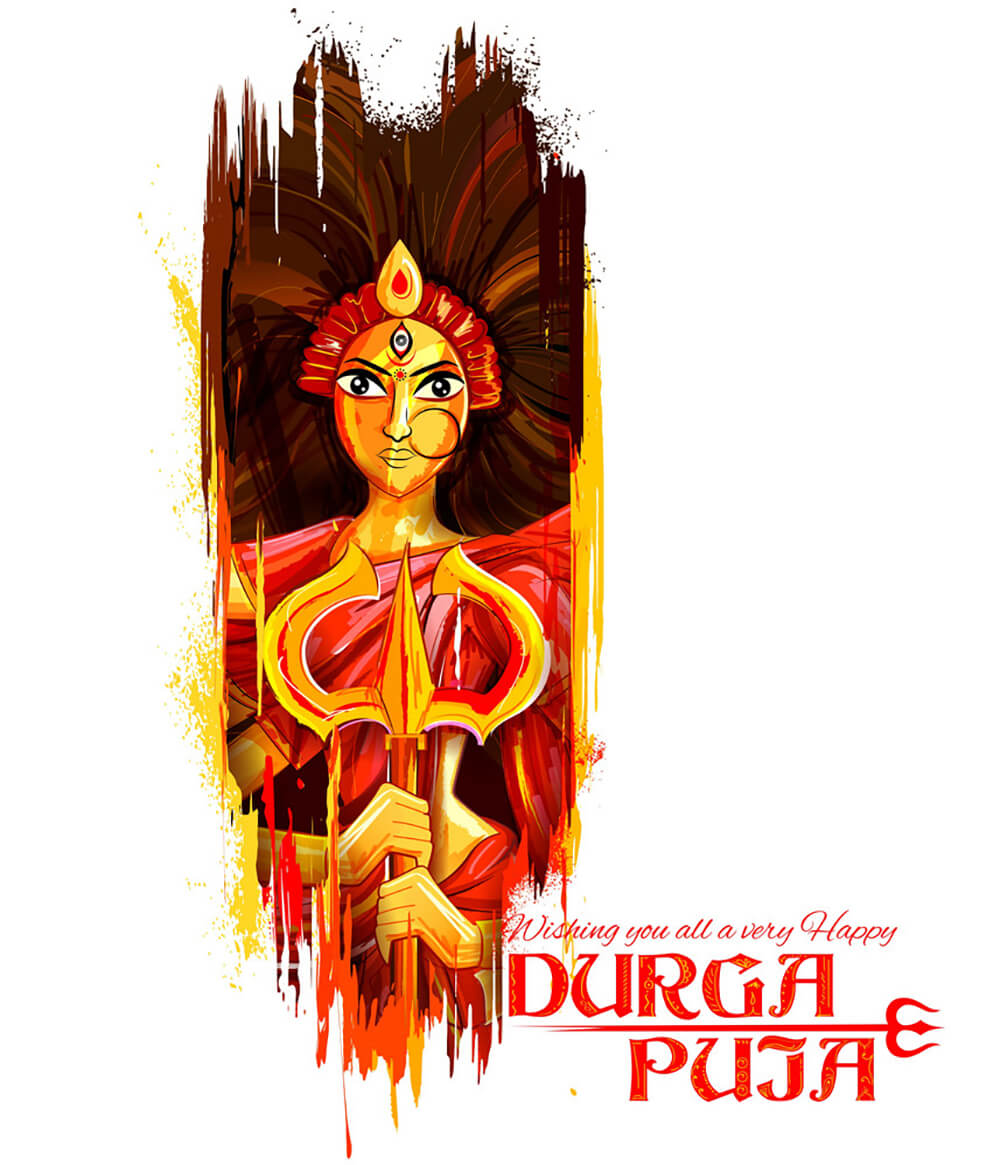 5. Colorful Devi Maa image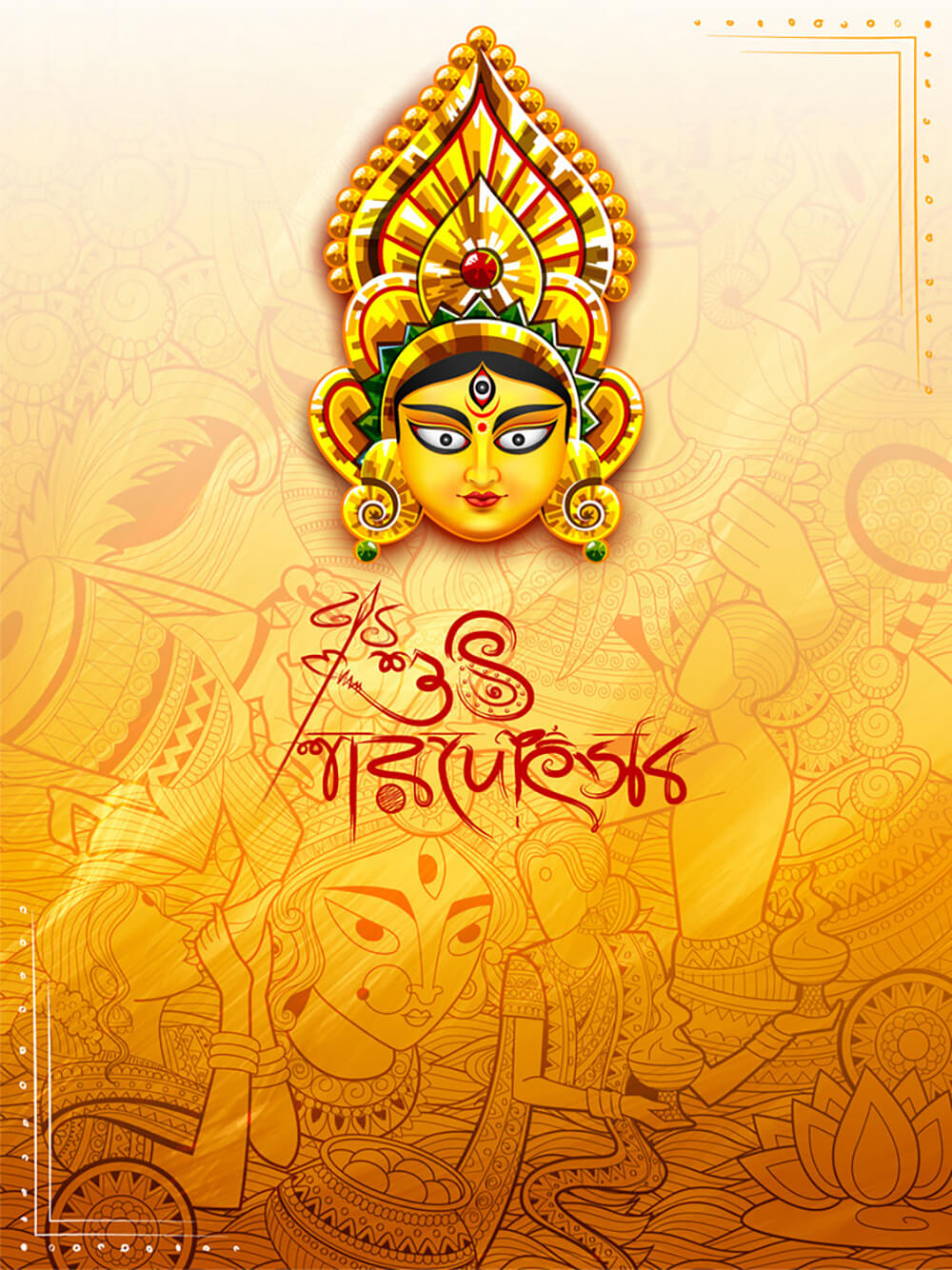 6. Goddess Durga Face in Happy Durga Puja Background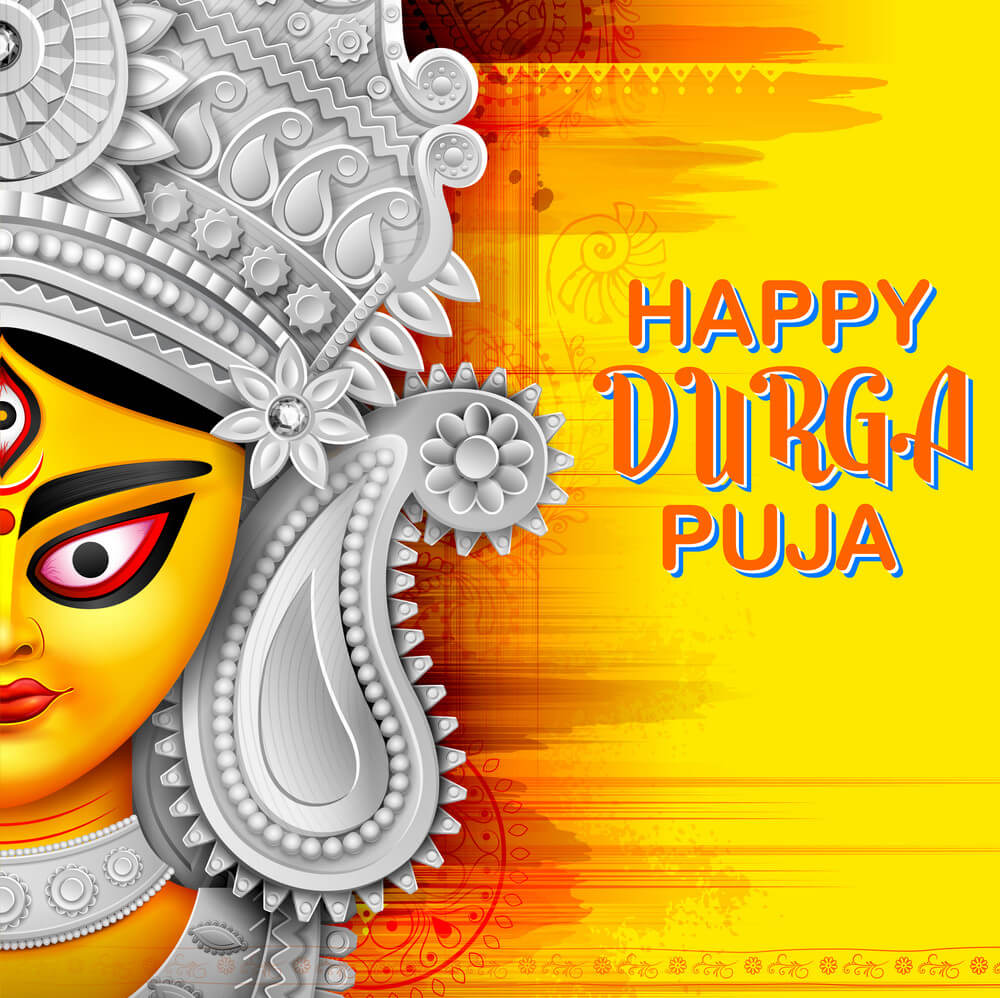 7. Image of Durga Maa for Durga Puja on a Red Background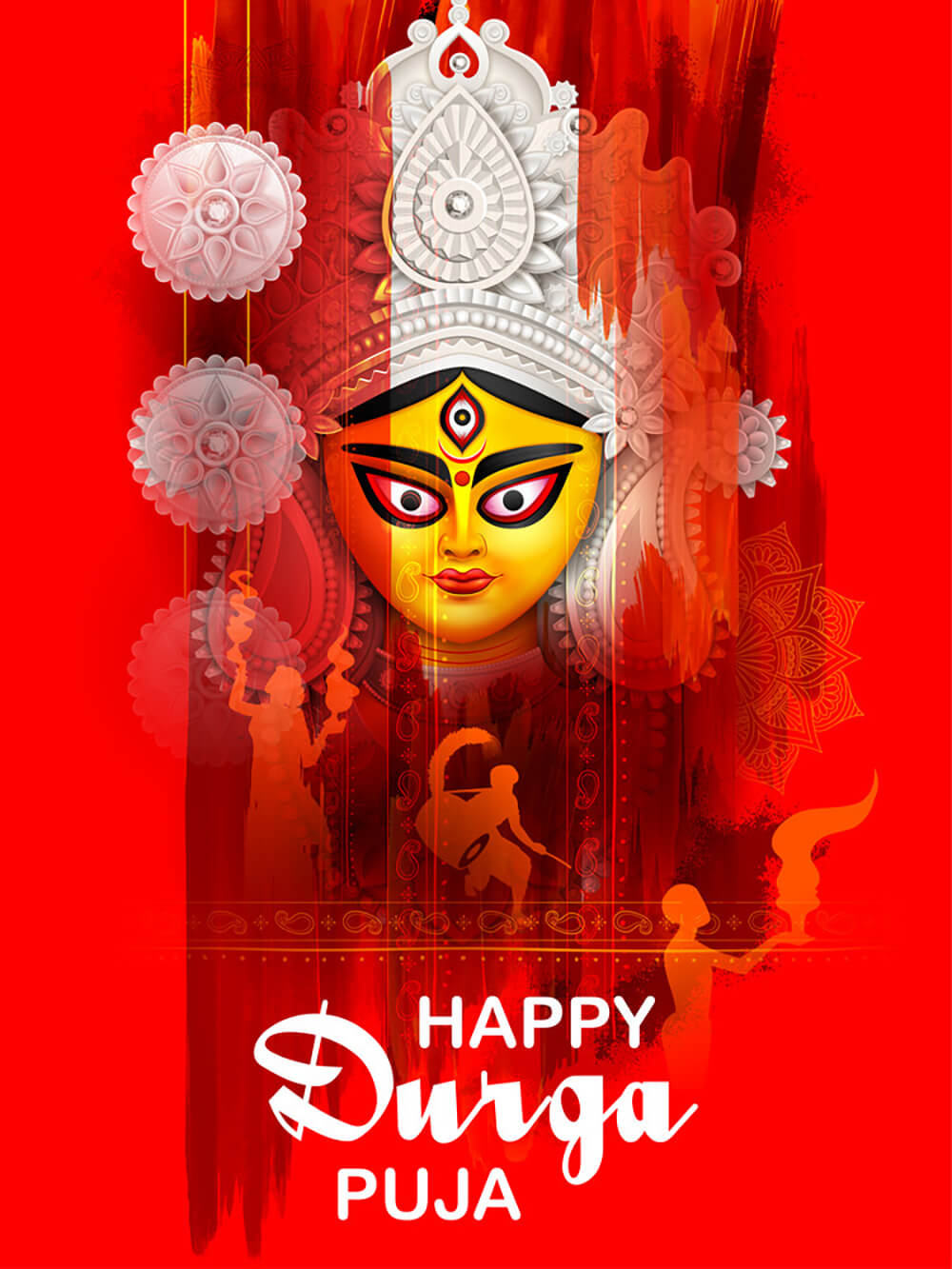 8. Goddess Durga in Happy Dussehra Background with Bengali Text Sharod Shubhechha meaning Autumn Greetings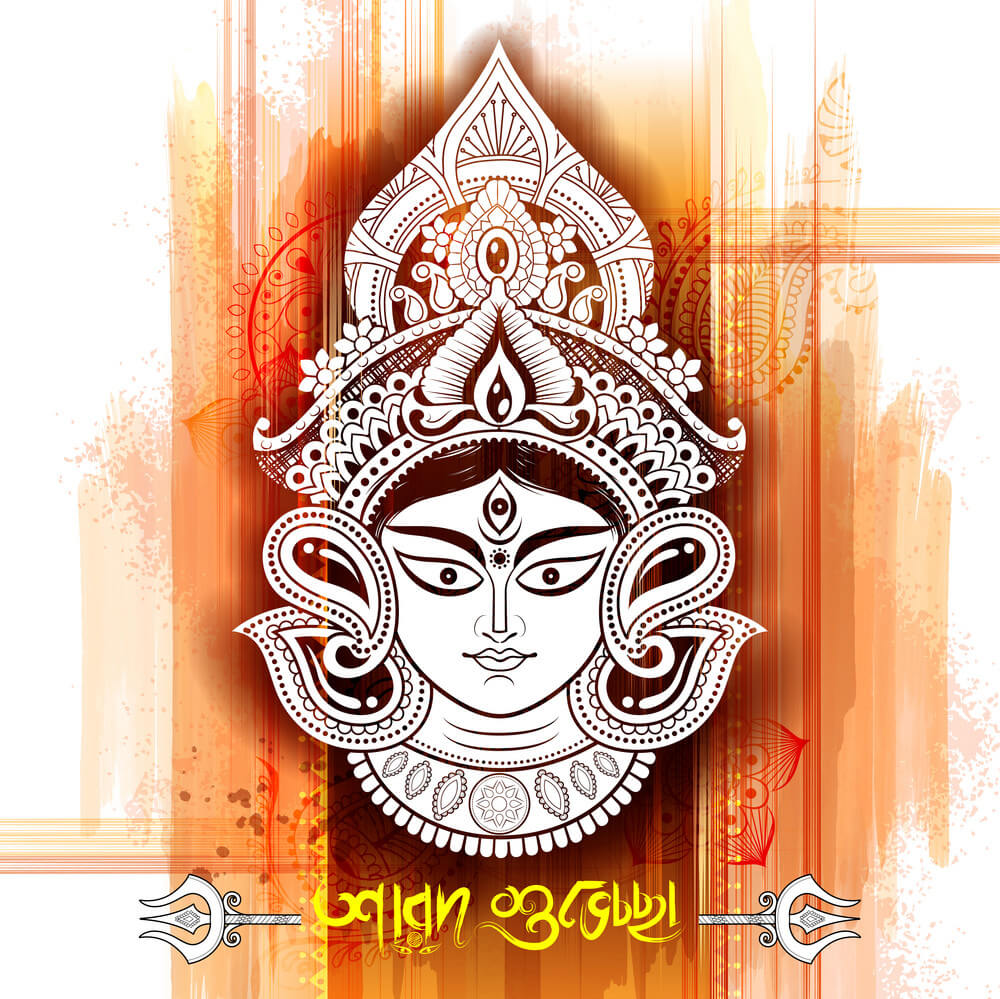 9. Goddess Durga Simple Image with Detailing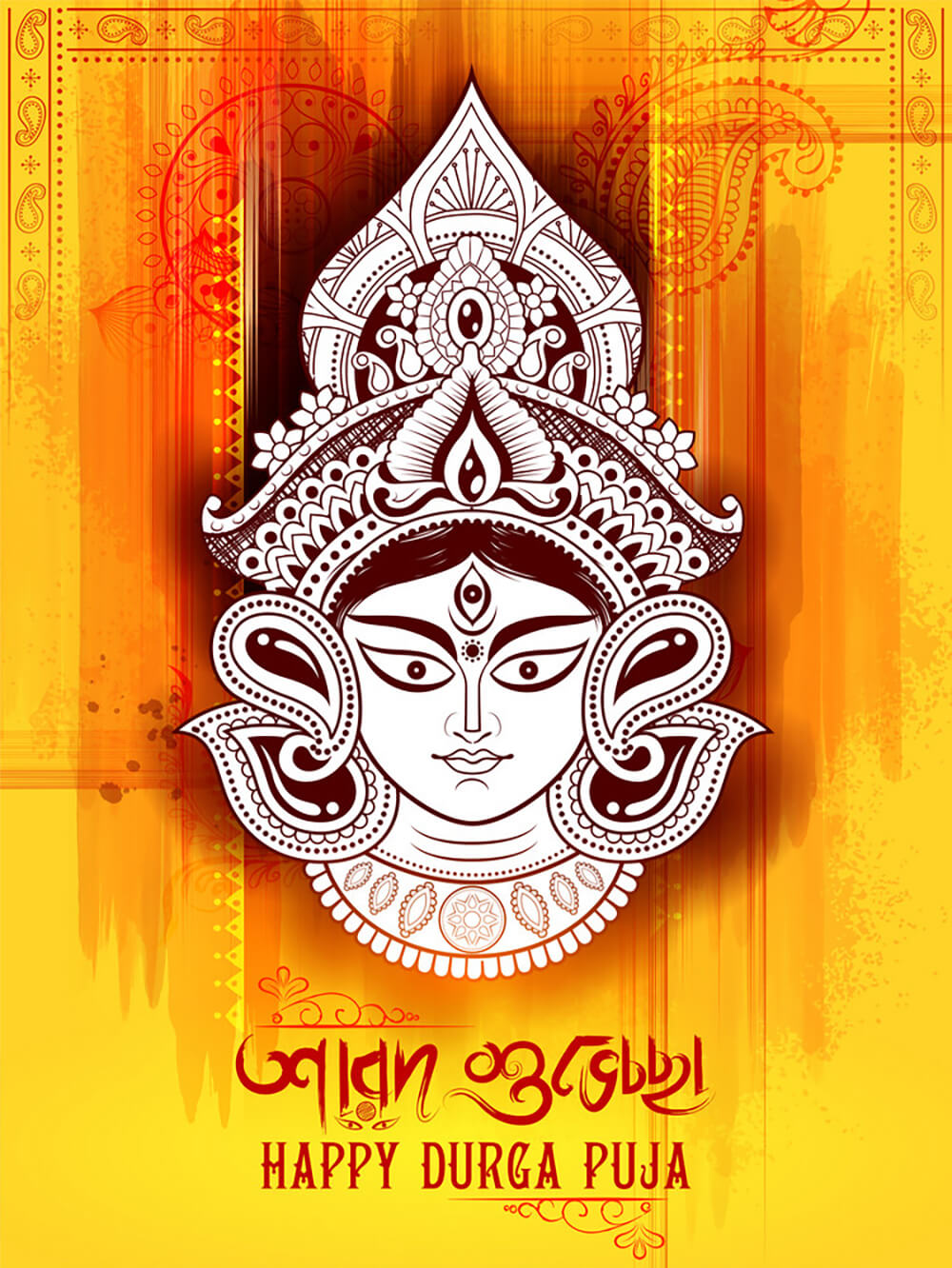 10. Bright and colorful Durga Maa face Image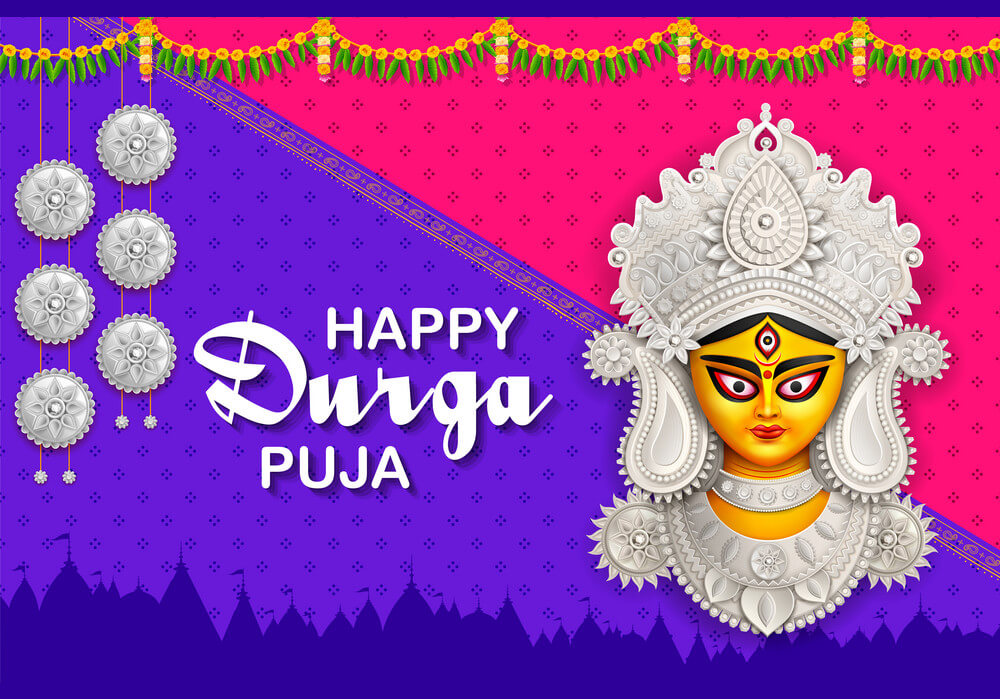 11. Durga Puja image showing an illustration of Goddess Durga Face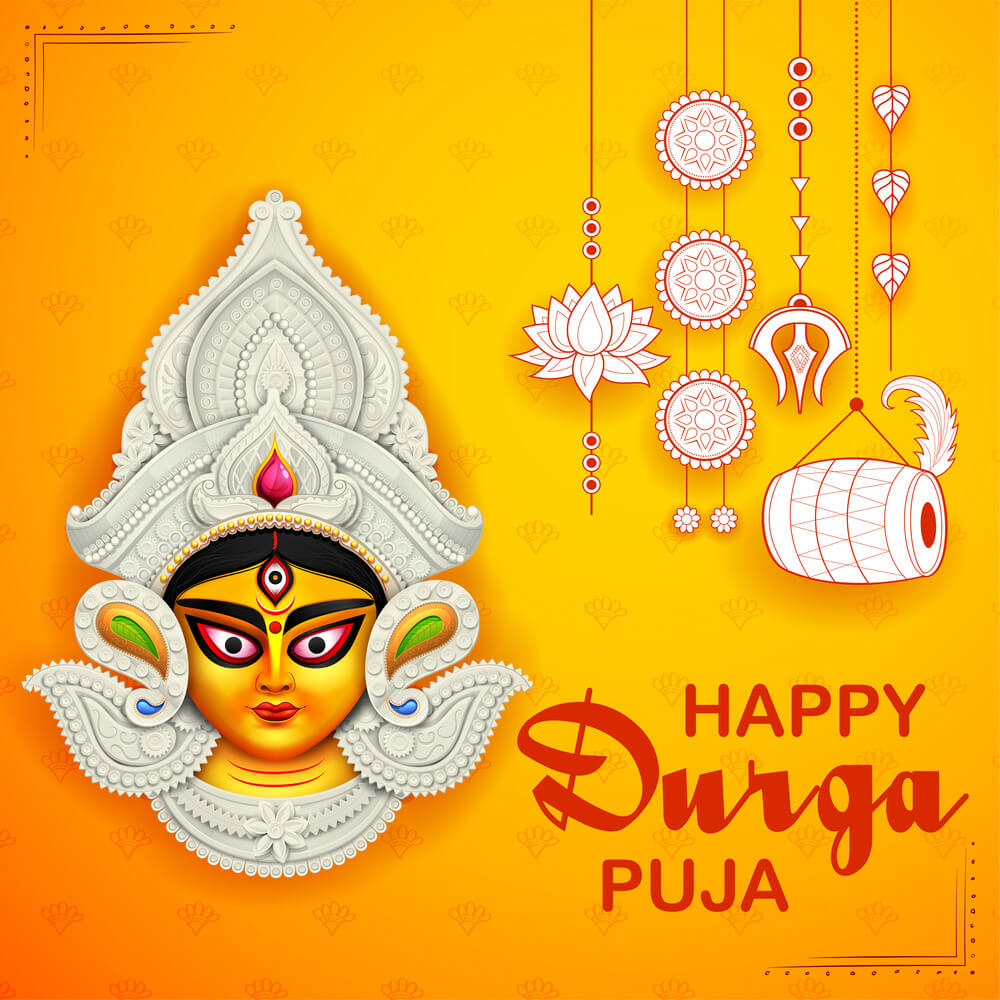 Durga Puja Wishes and Status Messages
Let the festive season embrace you and your family. May you have a very happy festival. Shubh Durga Puja.
May Goddess Durga bless you with good health and lots of wealth. Happy Durga Puja to you and your family.
Sending my warm wishes on this special occasion. Wish you a very happy Durga Puja and Vijayadashami.
माँ दुर्गा की कृपा आप पर सदा ही बनी रहे एवं आपकी सारी इच्छाएं माँ पूरी करे | शुभ दुर्गा पूजा |
May you be bestowed with her strength,
Maa will bless you with her wisdom,
May you be bestowed with all the happiness.
Wish you a very happy Durga Puja. May you be strong enough to fight all evils. May you be bold enough to face any situation. Durga Maa will bless you.
Let us celebrate the victory of good over evil; the victory of truth over lies; the victory of light over darkness. Shubh Durga Puja.
Leave behind all negativity, all bad memories, all sadness and all that hurts you. Pray to Devi Maa and she will fill your life with joy, happiness, and light. Happy Navratri and a very Happy Vijayadashami.
Happy Festival! Celebrate Durga Puja and Vijayadashami with great joy.
दुर्गा पूजा एवं विजयदशमी की ढेर सारी शुभकामनाएं | माँ आपके सारे कार्य संपन्न करें |
9 Navratri Colours
In the year 2018, Navratri will be celebrated between 10th of October to 18th of October 2018. The tenth day after the nine nights is celebrated as Dussehra (Vijayadashami day) which will fall on 19th October 2018. As we know that colors play a great role in our day-to-day lives, here is a list of Navratri colors 2018. Some people prefer to wear clothes as per these colours.
Read More
Conclusion
We hope that this Durga Puja post with images, wallpapers and wishes will be useful to you all. Wish you all a very happy festival from team CGfrog. Do share this post and also stay tuned for more festival posts.